Love Actually fans, we have an unsettling theory that will shake you to your core.
One person on Reddit has posted an extensive account over why they believe Emma Thompson's character - Karen - was actually at fault over her husband Harry's 'cheating'.
Now, Love Actually fans will know the saddest moment of the film occurred when Karen realised Harry had bought a beautiful gold necklace for somebody else.
She had spotted the jewellery a few days earlier, and immediately assumed she had stumbled upon her Christmas gift. But sadly, when she came to open the present around the Christmas tree, the necklace was nowhere to be seen. Instead, Harry had gifted her a Joni Mitchell CD.
Karen excuses herself, has a heart wrenching cry in their bedroom, before putting on a brave face for the kids. Later, she tells Harry: "Imagine your husband bought a gold necklace and come Christmas gave it to somebody else. Would you wait around to find out if it's, just a necklace, or if it's sex and a necklace or if it's worst of all, a necklace and love.
"Would you stay? Knowing life would always be a little bit worse? Or would you cut and run?
"You've made a fool out of me and you've made the life I lead foolish too."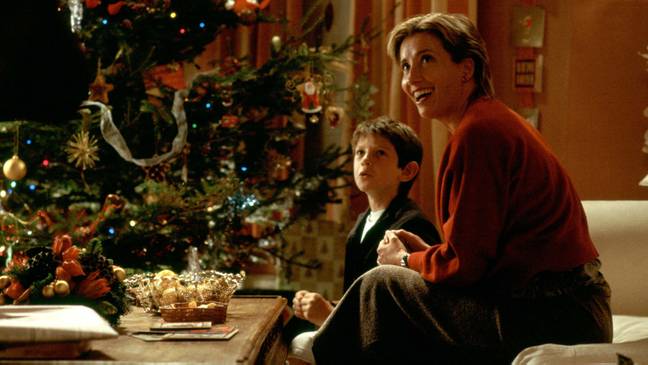 While our hearts collectively break for Karen every time we watch the film, one Reddit fan believes she's actually to blame, due to her 'emotional wall'.
"We all know that Karen (Emma Thompson) and Harry (Alan Rickman, RIP)'s marriage is compromised because Harry is being seduced by his assistant, Mia," they begin.
"However, I want to add that a lot of the problems in their relationship stem from Karen's emotional wall. Throughout the movie, we see many examples of her issues. She brushes off Daniel's phone call when he needs to talk ('doesn't mean I'm not terribly concerned that your wife just died') then later tells him to 'get a grip' and that 'people hate sissies.'
"She tells Harry that her gift expectations from him are low because all she ever expects from him is another scarf. She tells Harry that Joni Mitchell taught her to love ('Joni Mitchell is the woman who taught your cold English wife how to feel.'). Then, when she's expecting the necklace, she receives the Joni Mitchell CD instead 'to continue [her] emotional journey.'
"This is actually Harry's way of trying to save the marriage because he deals with Karen's lack of emotion on a daily basis.
"Yes he fu**ed up by giving the necklace to Mia, but somehow he is still trying to help break down his wife's wall. She thinks she needs the necklace, but she really needs to learn from Joni Mitchell what she thinks she did years ago.
"Joni's song that plays in the bedroom scene actually tells us this explicitly: 'I've looked at love from both sides now, from give and take and still somehow it's love's illusions that I recall; I really don't know love. I really don't know love at all.'"
Wow. We have to admit, it does make for a convincing argument, but we're just not sure we can hear a bad word said about Emma Thompson's Karen.