Stacey Solomon has admitted 'adult nappies' are her 'new best friend' after she welcomed baby Rose earlier this month.
Taking to her Instagram Stories, Stacey explained how a fan had asked whether having a newborn made her 'broody' for another.
Shocked, Stacey explained: "I take my hat off to anyone who can even think about procreating 11 days after giving birth... my noon is still 100% broken.
"I mean I could be wrong but I don't think anyone in the history of getting pregnant, ever got pregnant while still needing adult nappies to catch the afterbirth."
You can watch the video below:
After posting, Stacey revealed she'd been inundated with messages from followers asking which 'adult nappies' she uses.
"Current best friends," she said, alongside a clip of her Tena pants.
"On a serious note they're brilliant. And I am genuinely for their support with all of my babies. Thick and soak up A LOT. Love em."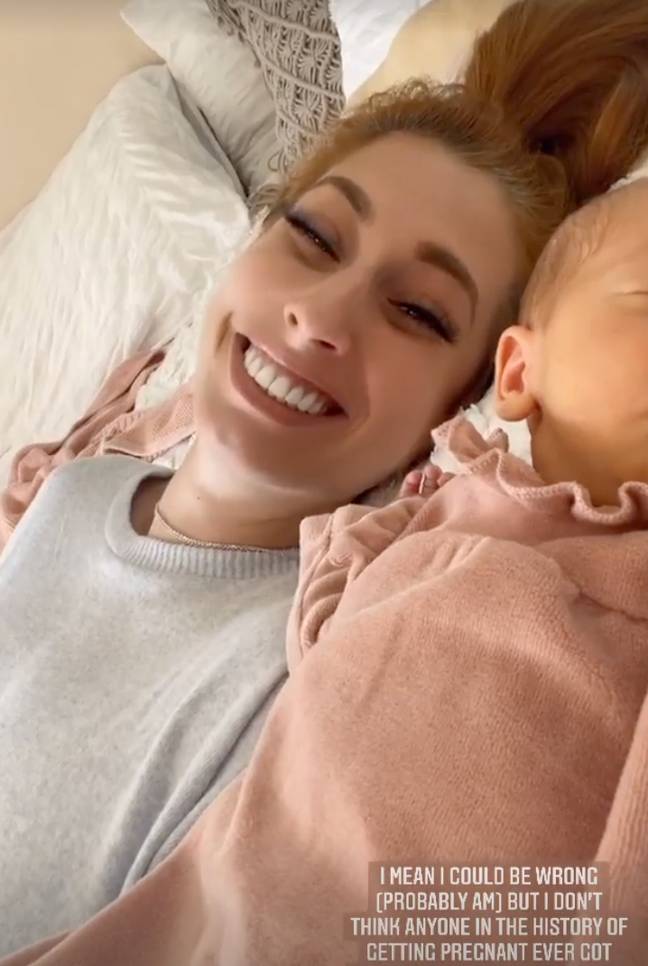 Stacey and Joe Swash welcomed their little one earlier this month, and recently announced the name of their newborn baby girl, informing fans that she is called Rose Opal Esmè Solomon-Swash.
But what inspired their newborn's title? Well, Stacey's co-star Ruth Langsford has revealed all on Loose Women.
Speaking on Wednesday's episode of the ITV show, Ruth begun with an announcement of Stacey and Joe's new arrival.
"Stacey and Joe shared the name of their week-old baby girl," Ruth explained. "She is called Rose Opal Esmè Solomon-Swash, they call her their precious jewel.
"Her middle name Opal has got special significance actually for Stacey and Joe.
"Opal is Stacey's birth stone and Rose was actually born on Stacey's birthday, so that's now her birthday which is lovely, and then Stacey's engagement ring has got two Australian opals because that's where she and Joe met on I'm A Celebrity."
Stacey welcomed baby Rose on her 32nd birthday, telling followers: "Sooooo, to my family on here, yesterday I got the best birthday present I could have ever wished for."
Joe also spoke out about the birth of his little one, writing: "My darling girls, I love you more than you'll ever know. October 4th is going to be an expensive day for daddy xxxx."