Ah, the good old days of coming home from school and watching your fave TV programme or waking up early on a Saturday morning to catch the latest cartoon. We all wish we could go back to those simpler times.
For a good bit of nostalgia, we thought we'd round up all our fave late 90s/early 2000s TV programmes. And, as they say, in no particular order the awards go to...
Lizzie McGuire (2001-2004)
Looking back we can't believe that Lizzie McGuire was meant to be 13. At the time we remember thinking she was SO much older. With the help of her BFFs Gordo and Miranda, it was fun to keep up with all of her embarrassing moments with an animated version of herself.
The Amanda Show (1999-2002)
Who didn't love Amanda Bynes growing up? The live action sketch comedy was aired on Nickelodeon and was absolutely hilarious. We loved sketches from Totally Kyle and Moody's Point... and we always wished we could have our own dancing lobsters. #amandaplease
Remember watching this one and the guy constantly being like 'OH, here's one I made earlier!' and you thinking 'Well sh*t, mine looks nothing like that.' Okay, so Neil Buchanan may have crushed our young artistic dreams, but he did provide for some amazing after school viewing.
Fresh Prince of Bel Air (1990-1996)
Of course we couldn't NOT include Will Smith, especially when the theme tune was so catchy! It's a programme we all still probably watch today but an absolute classic. Also, who could forget the Carlton dance?!
"Everyday when you're walking down the street, and everybody that you meet..."
When watching Arthur you were guaranteed to have the theme tune stuck in your head for the rest of the day. Dealing with everyday issues like homework, teachers and bullies, it was a good cartoon to relate to. We also lived for Muffy's levels of sass.
Aside from the fact Angelica is the bossiest (read: most amazing) child on the planet, we were obsessed with how cute Chuckie was. Looking back it might be a *bit* creepy that babies can talk in full sentences but it was still funny nonetheless. Their movie in Paris is worth a mention too!
Sister Sister (1994-1999)
A bit like The Parent Trap, Sister Sister focuses on twins who were separated at birth and given to adoptive parents but found each other at a department store. They all then decide to become one family. Weird, but SO funny mainly because of Roger (the sweetest but most annoying guy.)
SpongeBob SquarePants (1999-ongoing)
A sponge who lives in the sea and whose best friend is a starfish. An absolute timeless classic, need we say more? Some of the best hidden adult jokes in a cartoon for sure.
Boy Meets World (1993-2000)
Corey and Toping created our first ever #couplegoals and we loved watching them grow up together! From teenage years to married in college, watching them on screen made us want to be teenagers in America too.
Sabrina The Teenage Witch (1996-2003)
We lived for Sabrina and her sassy aunts. Watching all of their magical spells and her everlasting crush on Harvey Kinkle made Sabrina one of the best and funniest series to watch. Plus, that wardrobe sequence in the opening credits had proper 90s vibes.
PowerPuff Girls (1998-2005)
Three girls who were pretty much created by accident by a scientist and who go about fighting a monkey with an exposed brain. Absolutely crazy but absolutely amazing. Blossom, Buttercup and Bubbles were our faves!
Wild Thornberrys (1998-2004)
Could you really find a better guy than Nigel Thornberry? The weirdest family you'll probably ever come across but also the coolest. We loved following them on all of their weird adventures and will defos be watching it again as an adult!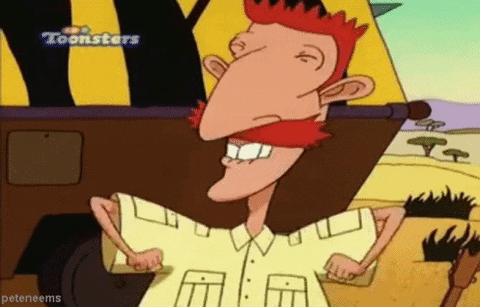 undefined

A boy with a football-shaped head who lives with his grandparents and is bullied by Helga. But, as we all know, Helga secretly has a crush on him. A classic Nickelodeon cartoon that we all grew up watching.
We loved how the gang made it their mission to protect the other kids on the playground, despite the rule of King Bob. Also, Miss Finster often reminded us of some of our school teachers, which is why we loved the show!
And don't lie, we all wanted to be a part of The Ashleys... Scandalous!