Noughts + Crosses Fans 'Traumatised' By Season 2 Finale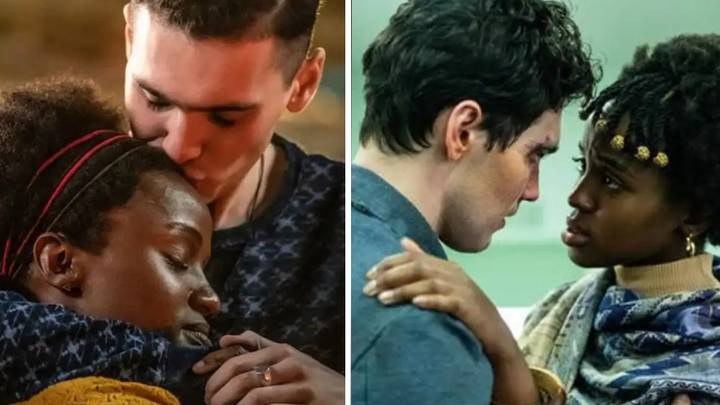 Featured Image Credit: BBC
Noughts + Crosses fans are completely traumatised after tearing through the second season of the heart-wrenching drama in one sitting.
Although only the first episode of season two aired on BBC One this week, the entire season has been released on BBC iPlayer for those who simply can't wait until next week.
Set in a parallel world where racial inequality is flipped on its head, Sephy (a cross) and Callum (a nought) fall in love despite the odds.
The new season picks up with Callum (Jack Rowan) and Sephy (Masali Baduza) desperately attempt to flee Albion in the hopes of a new life together. The star-crossed lovers leave behind their city, which ignites in the wake of Sephy's 'kidnap' and the devastating events of season one.
While some viewers knew what was in store for Callum and Sephy after reading the original book series by Malorie Blackman, others were completely taken by surprise by ending.
After staying up late to watch all four episodes of the new season in one go, viewers found themselves reaching for the tissue box after a rather devastating finale.
Taking to Twitter after finishing the series, one emotionally drained fan wrote: "I finished season 2 of #NoughtsAndCrosses last night and genuinely feel so distraught over the ending. I think I may be traumatised."
A second posted: "After 2am and I'm sat in bed crying cause of that ending #noughtsandcrosses".
One long-time fan of the Malorie Blackman series wrote: "Yo the book traumatised me more than 13-ish years back when I first read it and now I'm being traumatised all over again with season 2 #noughtsandcrosses."
And a rather devastated viewer who also evidently made it to the end of the series wrote: "Screaming crying throwing up I'm actually in tears #noughtsandcrosses."
We don't think we're ready for this!
Noughts + Crosses episode two airs on BBC One on Tuesday 3rd May at 10.40pm, while season two in its entirety is available to stream on BBC iPlayer.