Woman delivers baby at home in a blizzard with help from doulas on video chat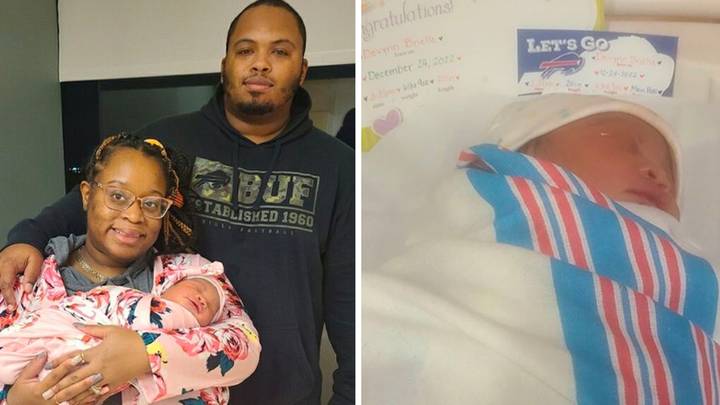 Featured Image Credit: Davon Thomas/CNN
A pregnant woman had to deliver her baby at home during a snow blizzard, with just the help of two doulas on a video call.
Erica and Davon Thomas, from Buffalo, New York, were expecting their first baby on Christmas Day, but just a couple of days before, on 23 December, Erica began having contractions.
Although the pain worsened and the contractions became more intense, the couple were unable to get to hospital due to snow from a blizzard, which had them completely snowed in.
Despite Davon calling 911, emergency services were unable to access their home and Davon was left with no choice but to deliver the baby himself.
Regarding the incident, Davon told CNN: "I started thinking, 'Well, how is my baby going to get delivered safely?'"
A family friend shared a post on a community Facebook group, which received heaps of comments from people sharing advice. One woman, doula Raymonda Reynolds, shared her number and spoke on the phone with Davon at around 1pm on Christmas Eve.
Raymonda advised Davon to fetch towels, sanitised scissors and a bowl, with the doula later video calling them so she could assist further.
"I kept telling Erica to take deep breaths. I was trying to keep them calm and reassure them," said Raymonda - who also added doula and nurse Iva Blackburn to the call.
"She brought that extra comfort with the medical background," she explained.
A doula is a person who supports a woman through labour and birth, as well as in the postnatal period after she has had her baby.
Erica continued with the help of Davon, Raymonda and Iva, and just after 3pm, the little one's head began to crown.
Just moments later, and Devynn Briell Thomas was born, weighing 6lb 9oz.
Davon added: "I couldn't have done it without them. It was very comforting knowing they were there."
Following the birth, the doulas helped the couple with the next steps, such as cutting the cord. They then needed to get mum and baby to hospital, and at 4:30am, they finally received a call to say help was on the way.
Social media user Angel Lugo had seen the post and although he was unable to get to the house, the family walked through knee deep snow to get to his vehicle.
After a check up at hospital, the trio returned home with Erica and Devynn "both doing wonderful."
Thank goodness for Facebook!