Couple Create Incredible Outdoor Area For Their Cats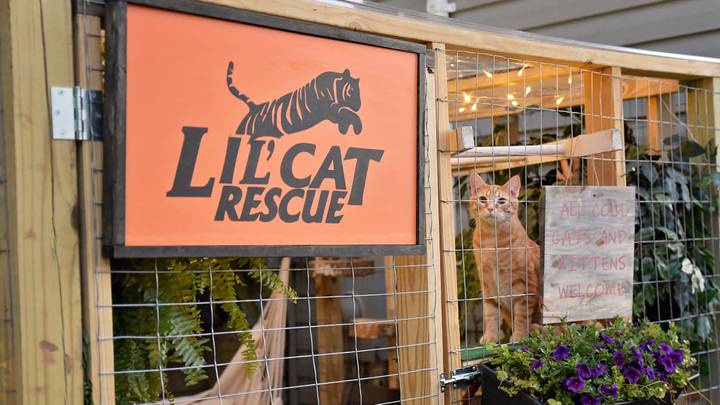 Featured Image Credit: Caters
Lockdown has seen people all across the globe using their spare time to make home improvements - and one cat-obsessed couple's DIY 'catio' has to be one of the most inventive yet.
Holli Tracy Bennett, 39, and her husband Roger, 42, spent the weekend building a luxury outdoor cat patio for their three house felines so they could safely enjoy the outdoors.
The 12 foot enclosure - costing the couple just £160 in total - is decorated with real grass, ferns, fairy lights, perches and ladders for them to climb on, and even a hammock for Holli to enjoy the space with her moggies.
"Now that my kids are grown up, the cats are my babies," says Holli, who owns her own DIY company, where she lives in North Carolina.
"I've always wanted to do a cat patio since I started keeping cats two years ago.
"I would love it if they could go and roam the streets, but they could get stolen or hit by a car or be attacked by a coyote or hawk.
"I finally decided to build one in lockdown, because I had the time and because of the warm weather.
"We have a pool which we've been spending lots of time in and the cats would be at the backdoor, looking out longingly - I felt so guilty that they couldn't enjoy what we could.
"The cats are obsessed with their new catio: they love it. They never come in now.
"They're always outside and I have to bring them through into the house at night.
"It's kind of a little playground for them."
The couple's inspiration for the patio was to give their three rescue cats - Cheeto, 14 months, Nacho, 12 months, and Queso, 10 months - a chance to enjoy nature without the dangers of going outside.
First, Roger began by kicking four concrete posts in the ground and constructing the enclosure around it with wooden posts and stapled-on chicken wire. For the rood, they used translucent plastic sheeting so the cats could listen to the natural elements as if they were actually in the wild.
Holli then took on the decorating leg, sourcing most of the times from her house or refurbishing things at her local workshop.
Holli added: "I wanted it to be jungle like and I wanted them to feel that they were really outside.
"I wanted the decoration to be boho-chic for me and jungle-like for them
"I put the hammock in there because I want to read with them there and I want to meditate with them there too.
"There's not lots of room to do yoga in as I'd have liked to so that's the only thing I regret: not making it bigger.
"The cats could have had more room to play then and I could have put more stuff in it.
"I'm now thinking of building another catio and putting in a tunnel to connect the two."
Since posting their creation on Facebook, the US couple have been inundated with requests from cat owners asking for advice on how to create their own cat patios. Holli and Roger are even building an outdoor enclosure for a local animal sanctuary free of charge.
"All the cats I own have special stories and each would have died if I hadn't given them care," says Holli.
"I just wanted them to feel like they were outside in the woods but safe.
"It seemed sad for them to spend 20 years of their lives inside and not experience the natural elements."