Mum Celebrates Giving Birth To Surprise Baby After Menopause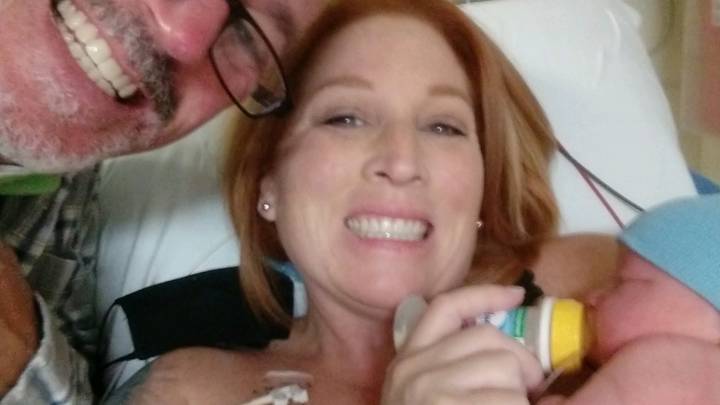 Featured Image Credit: Kennedy
One woman has left doctors stunned after unexpectedly getting pregnant with her sixth child while going through the menopause.
Ryan Renee France, 41, and her second husband of four years, Kenny, 52, decided that they only wanted one child together.
Kentucky-native Ryan had been told by nurses that she was unlikely to conceive after her fifth child, since Ryan was heading into the menopause as she'd missed a number of periods.
But in April last year, following a bout of sickness, Ryan decided to take a pregnancy test – and was left shocked to find she was pregnant.
"We thought that we were done having children but Thomas was such a miracle," she explained.
"I didn't know that I was pregnant and I wasn't taking any tests because I wasn't having a period due to menopause.
"I took a test one day and was so confused - it wasn't planned so I was really shocked.
"I didn't think we would be going through this again but it was a nice surprise."
Ryan added the arrival of Thomas is brilliant for her fifth child, as there's a significant age gap between him and her other children.
"My two year old, Denny-Ray, now has a best friend because there's a ten year difference between child number four and him, but Thomas and him are just 20 months apart," she said.
"Family gatherings are wild and the kids and cousins enjoy each other's company. It's very cute to watch them all play and grow up together.
"Thomas is definitely a great ending addition to our crazy and joyful home."
After giving birth to Denny-Ray in April 2019, Ryan went to the doctors with concerns she was menopausal as her periods had not returned over three months later.
"In November 2019 I went to the doctor and she said there's no way I had started menopause so she did some lab work which confirmed that I had.
"I was prescribed progesterone to try and pull me out of it, which unfortunately didn't work.
"I have three older children who are Marissa, 20, Myriam, 18, and Mario, 16, from my first marriage and their father, my first husband, passed away when they were young.
"I also have another child from a long term relationship, Isabella, who is 12.
"Kenny and I have been married for four years and he didn't have any children of his own so we agreed on having one child together, Denny-Ray.
"We didn't want any more children so Kenny booked an appointment to get a vasectomy but this was cancelled due to Covid."
After Ryan discovered she was expecting, she admitted the pregnancy was difficult as it was so unexpected.
"I had a lot of emotional and mental issues with this pregnancy because I wasn't prepared for it," she said.
"I had a C-section because they said he was going to be around 11lbs, but he was 8lbs 1oz and that was quite hard to recover from.
"When he was two weeks old I managed to get myself together and I completely fell in love with him.
"He's my little best friend and it's so fun to watch him grow up."
She added: "I think a lot of people don't realise that some women who go through the menopause can still get pregnant somehow.
"It's really hard to take it all in, especially because you don't plan it.
"As a nurse, I'd hear about other women who had babies during the menopause and I couldn't believe it. I definitely didn't expect it to happen to me.
"It has been an incredible journey and Thomas is definitely our little miracle baby who has completed our family in the best way."