Everything We Know About 'You' Season 2
Featured Image Credit: Netflix
*This piece contains spoilers about You season 1*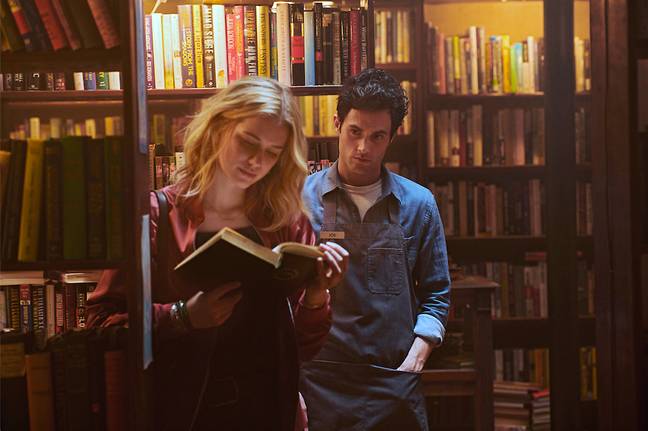 Rumours about the release date of the second season of psychological thriller series You have been swirling and it's getting us all excited about what exactly is coming our way.
Will psycho Joe Goldberg continue his reign of terror and keep killing those that get in his way? Why is Candace back? We were convinced she was dead too - has she returned to throw Joe under the bus for killing Elijah, who she cheated on Joe with?
Will anyone discover he's killed Guinivere Beck (Beck)? There are just too many questions.
And while we're still coming to terms with Gossip Girl's Penn Badgley turning into an absolute psychopath, we're also ready to see what season two has in store.
Is Season 2 Of You Confirmed?
It was confirmed that You would return for season two in July 2018, so it's been a while in the making.
Where Will You Be Set For Season 2?
Season two will no longer be filmed in New York City and instead will move to Los Angeles.
We assume the change in location is due to the fact Joe will want to run away from all of his problems - the problems being all the literal skeletons in his closet as well an alive ex-girlfriend who knows he's a murderer.
Show-runner Sera Gamble told TV Guide: "One problem that Joe might face coming to Los Angeles is that you can't walk down the goddamn street without someone posing against a selfie wall for their Instagram."
"If you want to lay low, if you want to stay out of trouble, if you're trying not to be known - Los Angeles is the wrong place to live."
Sounds like its going to be tough for Joe's psychotic nature to stay out of the limelight.
Does You Season 2 Have A Release Date?
Although the rumour mill has suggested December for a release date in the UK, we contacted Netflix who said that no date had yet been confirmed.
Which Cast Members Will Be Returning For You Season 2?
Penn Badgley is definitely returning as stalker Joe, but we're not confident many others will be, considering he killed most of the main characters... It has been a bit of a one man show up until now anyway, so why change it?
Which New Cast Additions Will There Be In You Season 2?
Victoria Pedretti, from Haunting of Hill House is set to star in Season 2 as Joe's new love interest. Poor woman - let's just hope she runs before it's too late.
Also confirmed is Melanie Field as a mummy blogger called Sunrise and Marielle Scott as her partner and literary agent Lucy.
We'll also see Magda Apanowicz, a woman from Joe's past join the cast and Charlie Barnett as Gabe, Love Quinn's best pal, whilst James Scully will join as Forty Quinn, Love's brother.
What Spoilers Have Been Leaked About The You Season 2 Plot And Are There Rumours?
For starters, rumours have been swirling about whether Beck is really dead. Nobody saw her actually die, did they?
The death is however discussed and we see Beck's fellow writer Blythe publish her final manuscript which supposedly details the factors leading up to her death.
If you remember rightly, Beck tries to convince Joe to let her out of the cage in the basement by convincing him she'll pin the murders Joe's committed on her therapist, Dr Nicky.
We then see Dr Nicky arrested for Beck's murder, but never Beck actually die. However, the actress who plays her, Elizabeth Lail, told the Radio Times: "I am sad to not continue that journey with him... The unfortunate thing is, the woman doesn't win in the end. And I'm so sick and tired of that."
Sounds pretty convincing she's set not to appear to us.
However, with Joe's previous ex Candace showing up at the end of the last season, we're pretty sure we're set to see a lot more of her in season two.
Joe's potential love interest is set to be Love Quinn, an aspiring chef played by Pedretti.
"He's truly heartbroken by what has happened, and so what [Love] offers is a different kind of friendship and a different kind of relationship."
One thing's for sure though, if Joe begins to fall for Love Quinn, her bestie Gabe (Bennett) is likely going to die, let's be honest.
Bennett told TV Guide: "It's so funny because online people are like, 'Oh, you're going to die. You're going to die. You're friends with the girl? You're definitely going to die."
One thing we can be certain of is Joe is not going to reform.
Gamble told Digital Spy: "I can't say he's fully reformed.
"It isn't like he's getting shelter dogs adopted in season two. He's doing some pretty crazy sh*t."
"At least one scene comes to mind that's gorier and scarier than anything we had in season one."
"Joe is forced to do something he really doesn't want to do," Gamble added.
We literally cannot wait to see this creep Joe back in action - he plays it so well! We just hope he eventually gets his comeuppance.