Razor company sparks fierce debate as woman shaves baby bump
Featured Image Credit: Instagram / @heyestrid
Razor company Estrid has sparked a fierce debate after posting a video clip of a pregnant woman shaving their baby bump.
Claiming to be 'more than just a razor company', Estrid says on its website that it is not bothered by 'how often you choose to shave' and that you are 'invited to our party' no matter what your decision is.
It's also created vegan and cruelty-free products, such as a razor which is 'free from animal byproducts in the moisturizing strips'.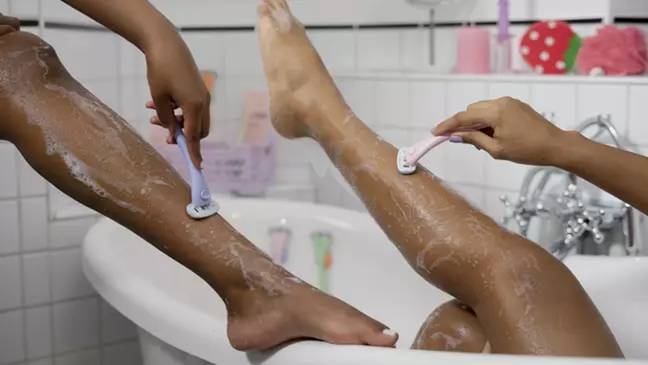 However, it seems the company has divided people after posting a promotional video which includes a pregnant woman shaving their baby bump.
"Get used to receiving smooth skin compliments. Estrid guarantees silky skin, shave after shave," reads the Instagram caption, with a link to some of its shaving products.
One person commented: "*No ladies, you do not need to start shaving your belly*."
A second added: "As if pregnant ladies needed to be told of more things to be insecure about!!"
Someone else said: "Nice let's advise shaving a pregnant tummy!!! ...ladies who think this might be a good idea at the time pls don't, that extra fluff you might get during pregnancy will drop out after birth so do not worry."
Whereas some people thought the backlash was a bit 'ridiculous'.
"For everyone with the negative comments about shaving the bump, how about the positive this has on women who do shave other areas and suffer from pcos?" one person wrote.
"Plenty women chose to shave their stomach! It's not about telling women they need to, it's normalising the ones who do!"
Another added: "I shaved mine !! Did me no harm !!! Get a grip these comments are ridiculous."
"Omg they're are just trying to show that the razors are gentle on your skin, hence showing a pregnant lady using it," someone else thought.
Tyla has contacted Estrid for comment.
Well, if you're noticing a lot of hair on your baby bump it actually happens to be very normal during pregnancy, according to FFS Beauty.
"This higher level of estrogen is the main reason you may see belly hair during pregnancy," they said.
"You may also notice that this hair is thicker and darker than usual as well.
"Don't be alarmed by this as many women experience increased hair growth which will return to normal after you've given birth."