House Of The Dragon: Filming Underway In Cornwall On Game Of Thrones Prequel
Featured Image Credit: SWNS
The new series, which is a prequel to the hugely popular HBO drama, will be focusing on the origins of the House of Targaryen, and has already attracted some of Britain's acting heavyweights such as Matt Smith, Rhys Ifans and Emma D'Arcy.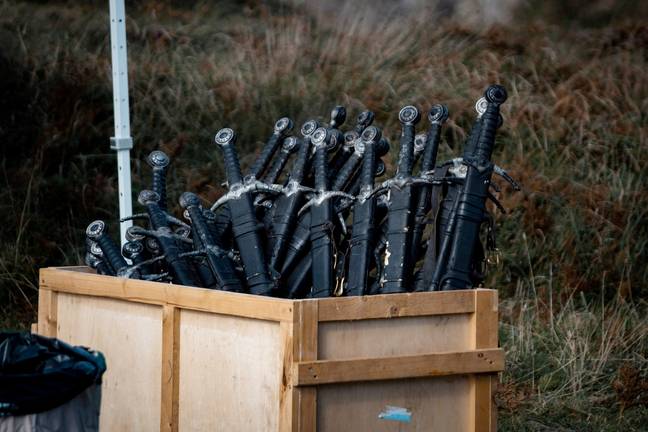 And now, filming is taking place, with the cast and crew being spotted on the stunning Cornish coast.
The tented area can be seen surrounded by wooden weapons and tables, with spears and swords poking out in the background.
Huge longbows were seen scattered across the floor by crew, in preparation for the hotly awaited HBO series - set to take place 300 years before the events of the Game of Thrones.
Crates, barrels and shields were also seen at the popular beauty spot ahead of filming for the prequel series, which centres on the dragon-riding Targaryen family.
Onlooker Richard Cooper, 33, said: "I'm a fan of the show and looking forward to it.
"I was lucky enough to be able to walk right through the set although I suspect it'll be closed off to the public very soon.
"But it was amazing to see the props up close, the detail that goes into these kinds of things is insane!
"They've set up in a beautiful spot so it'll make for stunning TV."
While initial production on the series launched in April this year, we still have a short while to wait until House of Dragon hits screens.
The series is currently due to air in 2022, and we bet it will be every bit as gripping as Game Of Thrones.
Peaky Blinders star Paddy Considine will lead the series as King Viserys Targaryen. In the synopsis for the character by HBO, King Viserys is described as: "A warm, kind, and decent man, Viserys only wishes to carry forward his grandfather's legacy, but as we've learned from Game of Thrones, good men do not necessarily make for great kings."
You can read more about all the Game of Thrones prequels, sequels and spinoffs in development here.