Couple who are mistaken as mum and son get engaged six months after meeting
Featured Image Credit: SWNS
A British couple who are constantly getting mistaken for mother and son thanks to their 29-year age gap are getting ready to tie the knot just six months after meeting.
When Luke Ellis, 25, and Steff White, 54, met online, sparks started flying immediately and within days, they were dating.
Although the loved up couple have their family and friends' full support, they often get odd looks from strangers when they're out in public together.
Luckily, the couple have learned to laugh off the negativity.
Luke, a coach driver from near Sidmouth, Devon, said: "Some people do get paranoid about age or whatever, I didn't see her age.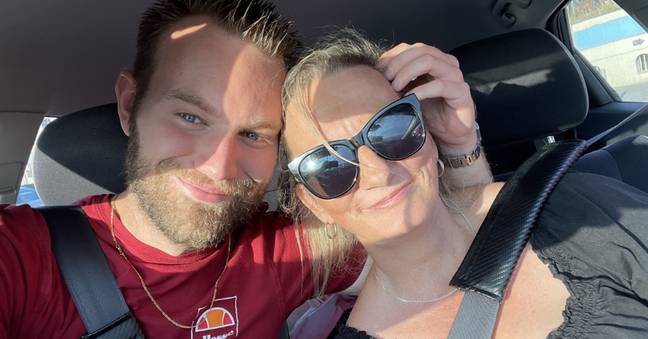 "I just saw her personality, her heart and soul, and everything else about her. I just fell in love with her for that. Everything is perfect about her."
He added: "My mum and Steff are the same age, bar a few months.
"Some people do look at us and think 'is this some sort of very weird mother and son relationship?'
"We know that some people have given us that sort of look as if to say 'this is very dodgy', it's all just by facial expressions."
Luke explained that some people assume he's with Steff for some sort of sexual kink, but he insists that's got nothing to do with it.
"I was drawn to her wholesome and very down to earth nature," he said about the mum-of-four.
"She has a unique personality - I love her humour, how kind hearted and loving she is, and how dedicated and committed she is to someone - that really got me into loving her."
Steff admitted that she was 'a little bit apprehensive' at first about going out in public together because of their age gap.
"I think it was because of other people's reactions and I was thinking 'oh God, they're going to think you're my son'," she said.
"And then I thought you know what, sod it, this is my life. They can think what the hell they like. It's nothing to do with anybody [else].
"Some people must think 'what on earth is he doing with a woman that age?' but the thing is, I might be 54 but I don't look it, act it and I'm growing old disgracefully."
On the reaction they get from other people, Luke shared: "Some of the comments that we've had are 'you two are really happy together, you both have a genuine smile and look so content with each other and you just match really well'.
"Some of the other comments have been like 'oh well, what do the neighbours think?' just basically trying to pile on mental paranoia to be worried about everyone else, when we haven't got any right to be worried. We are our own people and that's not for them to really comment on."
The couple say they have never been in a relationship with such a significant age gap before.
Gushing over her husband to be, Steff said: "Luke keeps me young and on my toes. We laugh all the time. We just gel and click.
"He's my dream guy. If I had a computer and could type in what kind of life I'd always wanted, he'd come out. He's everything a woman wants.
"He's old fashioned, attentive and looks after me. He's just so loving and tells me he loves me every single day. This is seven months later, and it just gets stronger and stronger.
"He makes me a cup of tea in the morning and if I ask him 'can you get me this?' He'll do it without quivering about it. He opens the car door for me and stuff like that. He's a gent.
"I'd tell other women to give it a chance. Don't go in blind. You'll know if you've got a connection. If there's a spark, you'll feel it."