Viewers left speechless over TLC's new show that's the 'grossest thing they've ever seen'
Featured Image Credit: TLC
Viewers have been left speechless after watching a new TLC show that they say is the 'grossest thing' they've ever seen.
TLC's MILF Manor is a new dating series that sees eight older women, ranging from 40 to 60 years old, put into a lavish mansion in Mexico with a group of younger men - the 'MILF' in the title referring to the acronym for 'Mother I'd Like To...' Well, you know the rest.
A synopsis from TLC says: "In TLC's newest dating and relationship series, MILF Manor, eight hot single moms search for love at a beautiful dating retreat in Mexico, but one shocking twist will change everything."
That shocking twist - spoiler alert - is that the young suitors they're supposed to be dating are one another's sons.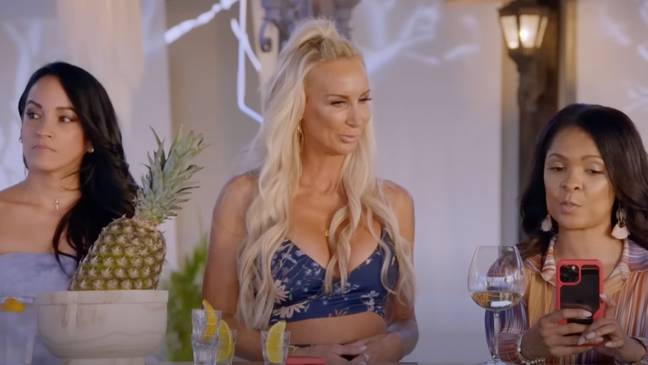 The series premiere, which aired last month, is now available to watch in full on YouTube, where many viewers found themselves feeling more than just a little unsettled by the concept.
One part even involved the blindfolded mums having to try and guess who was who out of the topless male lineup - figuring out by 'touching their chests and abs and shoulders which one is their son'.
One commented: "It's not often I'm left speechless, but I seriously have no words... actually, I take that back. What the hell is this? This is TLC reaching new lows. Between this and the 'I'm in love with a mamma's boy,' or whatever it's called, leaves me with incest vibes."
Someone else said: "This show is insane. Imagine if this was a show about fathers and daughters. EWW."
A third wrote: "The body checking part was the grossest thing my eyes have ever seen."
But the programme also has many fans admitting they're absolutely hooked.
"I'm normally not into reality TV, but thanks to my dark sense of humour, I've actually been enjoying this show," one said, with someone else adding: "This show is honestly one of the most shocking things I've ever watched and I'm absolutely here for it. It's genuinely gross and after seeing the following episodes it only gets worse... I honestly can't stop watching it though.
"It's the Human Centipede 2 of reality shows, it's not trying to be anything more than obscene cringe that you find yourself watching through your fingers."
Another agreed: "This show is gross and nasty but god damn imma tune in to the next episode."
Someone else said the premise was 'gold', while one other commented: "For some strange reason i want more. It is funny, exciting, controversial , disturbing and unforgettable."
Tyla has reached out to TLC for comment.