First Look At Flight Attendant Season 2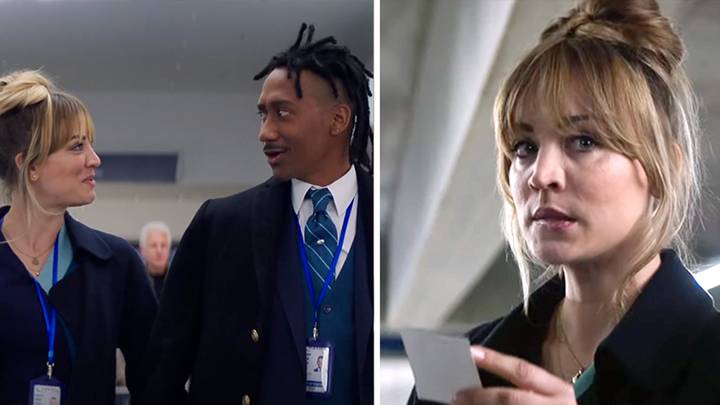 Featured Image Credit: Sky/HBO
The trailer for season two of HBO's The Flight Attendant has officially dropped and it looks like Cassie Bowden is in for a world of drama.
When we left Cassie (Kaley Cuoco) in season one, the flight attendant had decided to start living her best sober life.
Not only that, but she had been essentially head-hunted by Shane Evans (Griffin Matthews) to join the CIA's 'human asset programme.'
Judging by the trailer, it looks like Cassie has followed through on both accounts, working hard both to maintain her sobriety and work on top secret overseas assignments.
With the series filmed across Los Angeles, Berlin, and Reykjavik, it looks like Cassie is in for yet another adventure, with possibly even higher stakes.
There's a lot to unpack in this first trailer, but two key things definitely stood out.
First: Sharon Stone will join the cast as Cassie's mum Lisa. Blink and you'll miss it, but the actress's grand reveal is made in the final moments of the dramatic trailer.
It's hard to say why Cassie might be heading home to see her mother, but by the look on Lisa's face, it seems their relationship might be in need of some repair.
Second: There are at least three other Cassies?
In the trailer, Cassie becomes convinced that someone is trying to impersonate - and potentially frame - her. Her suspicion is turned on its head when she meets three identical clones of herself.
We're definitely looking forward to seeing what all that's about...
Returning to the series alongside Cuoco are Zosia Mamet, Griffin Matthews, Deniz Akdeniz and Rosie Perez.
Guest stars T.R. Knight, Yasha Jackson and Audrey Grace Marshall will also be back for the new season, accompanied by new cast members Mo McRae (Sons Of Anarchy), Callie Hernandez (Blair Witch) and JJ Soria (Army Wives).
New recurring guest stars Alanna Ubach (Euphoria), Cheryl Hines (Curb Your Enthusiasm), Jessie Ennis (The Disaster Artist), Mae Martin (Feel Good), comedian Margaret Cho, Santiago Cabrera (Heroes), Sharon Stone and Shohreh Aghdashloo (The Expanse) are also joining.
The second season of The Flight Attendant will return on Thursday the 26th May 2022, exclusively on Sky Max and NOWtv.