Genius Sock Hack From ASOS Could Save You From A Big Fashion Faux Pas
Featured Image Credit: Instagram/ASOS
Is there anything worse than nailing that cute summer-dress-and-trainers look then finding out that all your clean invisible socks are in the wash? You know, the pair that won't show over your brand-new Nikes and ruin the aesthetic of your whole outfit?
Luckily, some genius at ASOS has come up with a handy hack to turn your normal socks into a pair of no-shows that aren't visible above your shoes, and Instagram is losing its mind.
The high-street retailer shared the video on its Instagram page and so far it's racked up over 425k likes and more than 630 comments from amazed followers who can't wait to try the trick out IRL.

"Fashion hack alert. Caught out with the wrong socks? Try this," the video was captioned.
The video starts off with a woman wearing a pair of bright neon socks that she needs to wear with some metallic silver loafers. Sadly, said socks would be clearly visible over her shoes but fear not, ASOS is here to help.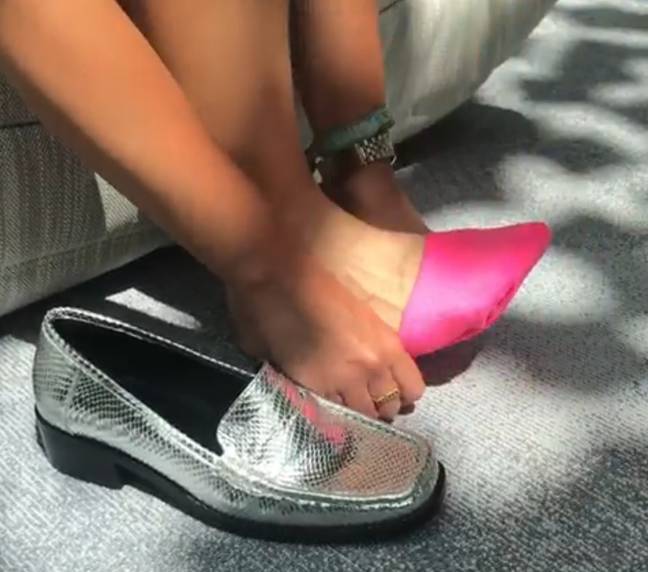 To combat the problem, she simply pulls down the socks over her toes as if she was taking them off so only the tip is still over her foot. She then wraps the top of her sock under foot and secures over her heel.
And there you have it! Pop socks that can no longer be seen when she puts on her shoes.
"Mind blown, life changed," posted one follower, while another said: "This must be the new cool way to wear your socks!!"
Another tagged a friend in the post while commenting: "To solve your sock problem!"
However others were more sceptical that the hack wouldn't actually work, with one saying: "Great till you take one step and they slide back down into your shoe!"

"I'm not convinced it will stay there," added another.
Excuse us for a minute while we try it out for ourselves.