Hailey Bieber has finally followed Selena Gomez back
Featured Image Credit: Instagram Hailey Bieber / Selena Gomez
Hailey Bieber has followed Selena Gomez back on Instagram after Gomez publicly defended her earlier today (24 March).
There has been long speculation about a feud between the pair, with rumours reignited when Bieber and her friend Kylie Jenner uploaded an Instagram story, which appeared to mock Gomez for over-laminating her eyebrows.
There were later rumours that Bieber's husband Justin - who we all know dated Gomez - got involved in the feud when guests at his 29th birthday party were given a silver lighter featuring a cowboy hat bearing the words: "I am so grateful that I didn't end up with that what I thought I wanted."
Many seem to think the pair have an obvious rift despite Gomez and Justin Bieber splitting up many years ago.
Fans first accused the supermodel of 'stealing' the 'Boyfriend' singer when he proposed to her just two months after he ended his eight-year relationship with Gomez.
But Bieber has always denied this, and even appeared on Call Her Daddy podcast in 2022 to address the rumours, it hasn't stopped fans' speculation.
She told listeners: "I can say, period, point blank, I was never with him when he was in a relationship with anybody — that's the end of it."
Despite that, Bieber has received much criticism online, to the point where she has received horrible death threats.
Surprisingly, Bieber opened up about this to Gomez, to which the singer and actor posted to Instagram earlier today (24 March) defending the actor.
Taking to her Instagram story, Gomez wrote: "Hailey Bieber reached out to me and let me know that she has been receiving death threats and such hateful negativity. (...) I've always advocated for kindness and really want this all to stop."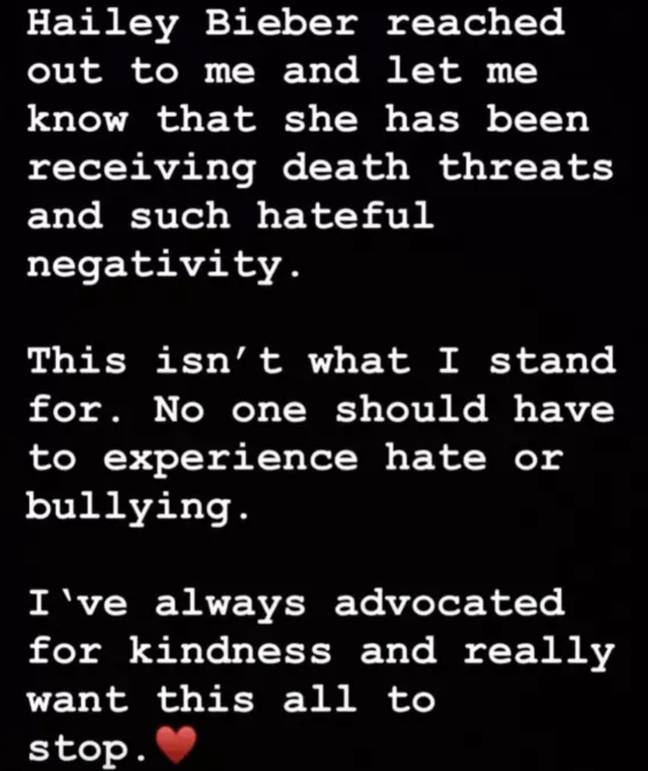 Following that, Gomez started following Bieber on social media despite the alleged feud between the pair.
While it did take a bit of time for Bieber to follow her back or respond to the statement Gomez made, she has now actually started following her on Instagram.
However, that did come after a bunch of fans took to social media criticising Bieber after noticing she hadn't followed Gomez back.
With this public statement from Gomez backing Bieber, and the pair now following each other on social media, it is hard to imagine that they are at massive loggerheads.