Why Matilda Is Still The Best Film Ever
Featured Image Credit: Jersey Films
It's been 25 years since Matilda hit the big screen and it deserves a big happy birthday by celebrating how utterly wonderful it truly is. Even a quarter of a century later, the Roald Dahl adptation still stands as one of the best films ever and I can even list the reasons why.
Not to reduce this absolute classic to just the aesthetics – but come on. These outfits look like what the cool Gen Z kids on TikTok wear.
Go to any vintage fair and you'll see denim dungarees galore amongst the shoppers. Plus, let's be real, even though she wasn't the best mum, Zinnia Wormwood's jacket is a staple and a half. Honestly desperate to have it in my wardrobe. Even Miss Trunchbull's grey sweater was low key a look.
The Chocolate Cake Scene
Is Bruce Bogtrotter eating that mahoosive chocolate cake one of the most iconic food scenes in cinema? Yes. Next question.
No seriously, how desperate were you as a kid to taste that chocolate cake? It looked like the most delicious desert ever, even though the dinner lady might have put literal blood, sweat and tears into it.
And the buzz you got from seeing Bruce conquer that monstrosity and stick it to the principal, Miss Trunchbull? Nothing could beat it. Speaking of which…
One of the most frightening villains of anyone's childhood. When she went to hammer throw Amanda Thripp using her cute, blonde pigtails, it used to send my heart rate through the roof.
Not to forget, the movie also strongly suggests that Miss Trunchbull actually had something to do with Miss Honey's dad's death so that she could inherit his house instead of Miss Honey. And she's the principal of a school filled with kids? Still scares me to this day to be honest.
The Soundtrack
I have to give a special shoutout to the movie's soundtrack as well. 'Send Me On My Way' by Rusted Root is actually a tune and always instantly delivers on the '90s nostalgia. The score is also so charming with every scene having the perfect amount of childhood wonder in the background.
But the best use of a song in the film goes to...
The Little Bitty Pretty One Scene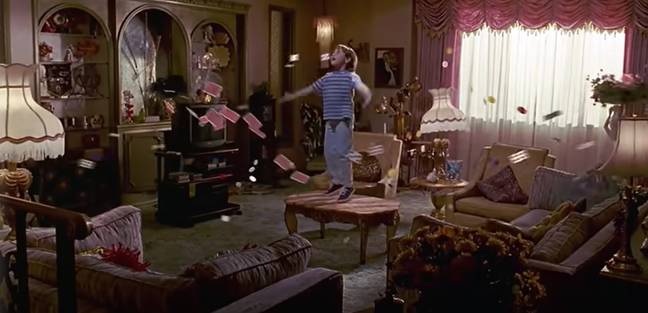 Why does this film have so many bangers and brilliant food scenes? I'm not complaining though.
This is where the some of the film's best aspects come to play with the bop of a song and Matilda fully showing off her telekinetic powers.
Kicking off with our main character practicing her new powers on her cereal, we then descend into a glorious dance routine with flying playing cards and spinning flowers to the tune of 'Little Bitty Pretty One' by Thurston Harris. Truly, an instant serotonin kick.
The sweetest bumble bee in that whole school. I dreamt of playing with Miss Honey outside her gorgeous, dreamy cottage while learning how to spell "difficulty" (for anyone who struggles, just remember the poem Miss Honey teaches to the kids: "Mrs D, Mrs I, Mrs FFI, Mrs C, Mrs U, Mrs LTY!").
She was the perfect fit as Matilda's new mum after her biological family agrees to let Miss Honey adopt her and the two of them made the loveliest family. Which brings me on to the ultimate reason why Matilda is still so good 25 years later…
Matilda takes all of the mean words that are said to her and uses them to make her powerful. Her dad's yelling, Miss Trunchbull's cruelty, her mum's dismissiveness are enough to crush any kid's soul. But Matilda uses it all to instead fuel her literal superpowers.
She's also a young girl who relishes being clever. My heart still swells when I picture little Matilda with her pull-along red cart filled with library books. She knows that her brain is the most powerful thing about her, whether it's magically pouring Cheerios and milk or helping her do wildly complicated maths equations.
That's why Matilda is actually the best film ever, because it recognises that there isn't anything mightier than a rebellious little girl who knows her own strength.