Woman explains why she called off engagement to 'perfect man' just two months before wedding
Featured Image Credit: Supplied
Getting engaged is, without a doubt, one of the most exciting and important moments in your life. It marks the start of a new chapter and the promise of a partner for life - but how do you know if that partner is 'the one'?
This is a question Hope Moquin, from San Antonio, Texas, found herself asking after she got engaged to the man she met when she was 19 years old, and fresh out of a 'situationship'.
Hope was 'pretty brokenhearted' at the time, but her new boyfriend was 'genuinely such a good person' and arrived in her life at the 'perfect time'.
"He was handsome, hard-working, extremely respectable and on paper, was truly your picture perfect southern hospitality man," Hope told Tyla.
The pair started dating, but Hope couldn't shake the feeling that 'there was something missing'.
She asked for space from the relationship to figure it out, but admitted she was 'so comfortable with him' that the familiarity of their relationship led her back to him.
"There was still that voice in the back of my head telling me this wasn't it for me. But I kept on ignoring it because he was such a good guy I thought I was going crazy," she said.
When Hope was in her early 20s, she was entirely shocked when her boyfriend popped the question.
She said yes, and 'convinced' herself that it would work because 'there wasn't anything wrong' with the relationship.
"I did love him, and it was a safe option where I knew he wouldn't hurt me," she said.
Looking back, though, she's learned now that 'you do not have to marry someone just because it seems right'.
Though their relationship was fine 'on paper', Hope realised she needed to call things off after chatting to a friend one day.
At the time, Hope was running an online women's ministry which involved her mentoring girls, and she realised she had to take some of her own advice about listening to the voice in her heart, and making hard decisions now so she could be her best self later on.
The friend reminded Hope that she deserved the best for both herself and those she was mentoring, but breaking off the engagement was still 'one of the hardest decisions' she's ever faced.
Hope and her boyfriend were already four months into their engagement, and just two months away from their wedding. They had to cancel plans and lost 'a lot' of money, and there were times when Hope didn't have that comfortable relationship to lean on that it felt like she 'regretted' it.
"It was hard. I mean, really hard," she said. "Breaking up with someone because of a big fight, or because there are different core values is one thing. But breaking up with someone you are in love with because you just know it isn't right? That's hard.
"But what I learned is that just because something is hard, doesn't mean it's not right."
Though her fiancé was heartbroken, thankfully he handled Hope's decision 'respectfully' and didn't try to change her mind. Hope's dad was also supportive, though unfortunately her mum was a different story, and even attempted to call the fiancé after the breakup to 'try to get him to get back' with Hope - but, of course, Hope's mind was already made up.
Knowing she needed to deal with her feelings in one way or another, Hope decided to share her journey online, using her emotions as a way to 'relate with others and encourage people that they aren't alone'.
She was living in Atlanta at the time, and while there received a message on Instagram from a man living in Seattle.
The pair got to talking, and exchanged numbers a few days later. They then FaceTimed everyday for a month, and Hope flew out to meet him in person.
Recalling the new romance, Hope said: "I said I would never date someone I met through social media, and isn't it funny how we always end up doing the things we said we'd never do?"
Her visit was supposed to be a three day trip, but Hope ended up staying for 12 days.
They dated for six months, and then Hope was faced once again with that question: "Will you marry me?"
Having already been engaged once, Hope knew how serious this question was.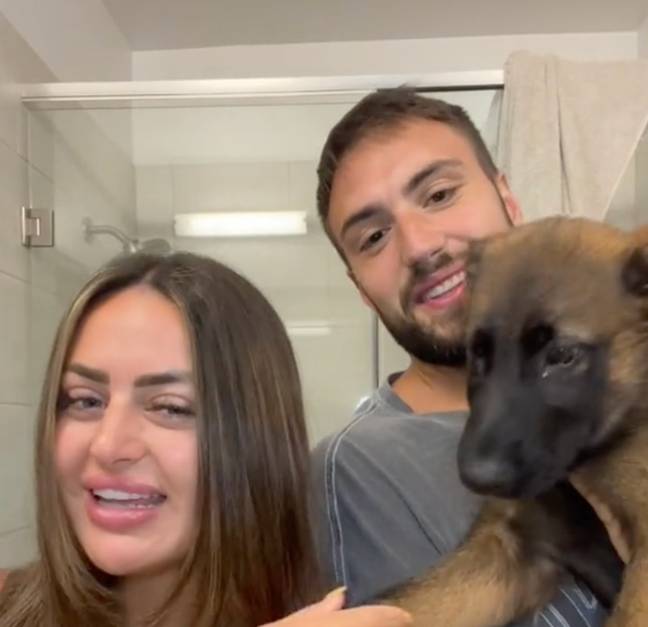 "Who you marry is the second biggest decision of your life. It's a commitment and it's not something to take lightly," she said.
"Who you marry is going to pull you back or push you forward in your dreams. Who you marry will make you a better person or they will turn you into someone you don't even know."
In her first engagement, Hope had been 'trying really hard' to convince herself it was 'right' because everything seemed fine.
In her new relationship, she found herself 'trying to convince [herself] it wasn't right because of how well everything was going and how quickly [she] was falling'.
"When we have to convince ourselves that someone is right for us, they probably aren't," she said. "You won't be able to fight off the right thing for you. When the time is right, you can't stop it. And when the time isn't right, you can't force it."
Knowing she'd found the one, Hope said yes and is now happily married, with two puppies she and her husband wake up with every day.
She's now living her 'dream' life, and she's realised it's 'worth hurting someone's feelings in a breakup now rather than changing someone's life in a divorce later on'.
Sharing her advice for other people who might be struggling with an engagement, Hope said: "There is no timetable. Take your time. There is no pressure.
"You do not have to marry someone just because it seems right. If you feel like something is off, trust it. Don't just settle for good... You could be living your dream life in just a few years. Trust that small voice, and take it step by step."