Taylor Swift Hits Out At Netflix For 'Lazy, Deeply Sexist' Joke In Ginny And Georgia
Featured Image Credit: PA
Taylor Swift has released a statement after a joke about her dating life was featured in the new Netflix show Ginny & Georgia.
Taylor took to Twitter on Monday to respond to the joke, which she branded "lazy" and "deeply sexist".
Ginny & Georgia follows Ginny Miller (Antonia Gentry), a 15-year-old teenager, and her 30-year-old mother Georgia (Brianne Howey), in a fictional New England town.
The show has drawn comparisons to Gilmore Girls because of the mother-daughter duo and its references to pop culture. In the final episode of the first season, Ginny and Georgia have an argument about Ginny's relationships.
During the argument, Georgia assumes Ginny has broken up with her boyfriend, Hunter, to which Ginny retorts: "What do you care? You go through men faster than Taylor Swift."
Taylor tweeted: "Hey Ginny & Georgia, 2010 called and it wants its lazy, deeply sexist joke back. How about we stop degrading hard working women by defining this horse sh*t as FuNnY. Also, @netflix after Miss Americana this outfit doesn't look cute on you Happy Women's History Month I guess."
On social media, Taylor's fans - known as Swifties - condemned the show's writers for using a trope about Taylor, whose romantic relationships have been the subject of scrutiny for most of Taylor's career.
A similar joke featured in another teen drama - Degrassi: Next Class - featured a character who claimed that "Taylor Swift made an entire career off her exes".
She also called out Netflix, which released her acclaimed documentary Miss Americana in 2019, and pointed out she had to respond to the joke on the first day of Women's History Month.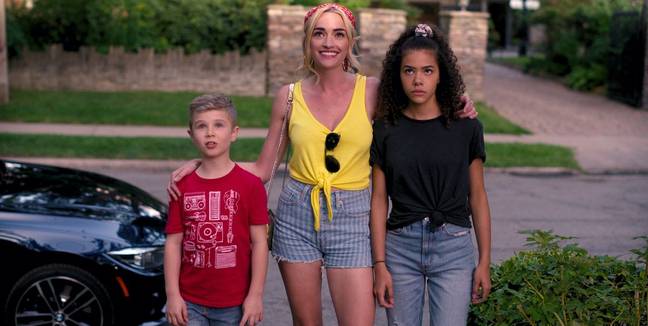 Taylor has previously spoken about the criticism she has received about the content of her songs. In 2014 during an interview with Australian radio station 2DayFM, she hit back at the claim that she only writes songs about her ex-partners.
"No-one says that about Ed Sheeran. No-one says that about Bruno Mars," she said. "Frankly, that is a very sexist angle to take."
The writers of Ginny & Georgia and Netflix have yet to respond. Tyla has reached out to Netflix for comment.