Fans are freaking out over Mariah Carey's latest social media post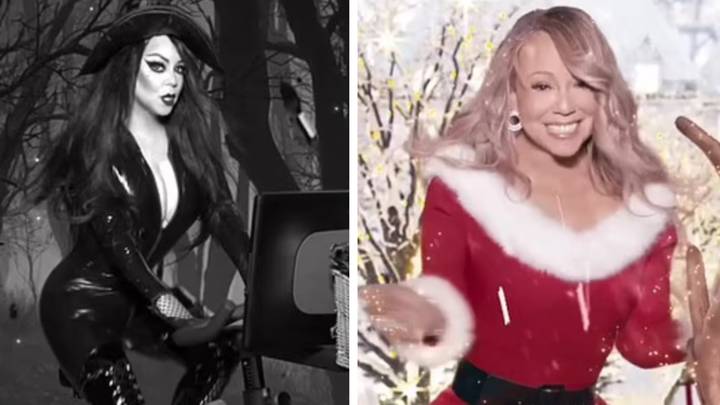 Featured Image Credit: Instagram/@mariahcarey
It's only Christmas when Mariah Carey says it is - and fans are going wild over the singer's latest social media post. Prepare to get in the festive spirit and watch the video below:
As fans will know, as soon as Halloween is out of the way, it's time to get into the festive spirit with holiday favourite 'All I Want For Christmas Is You'.
And in case anyone forgot, Mariah, 52, took to social media with a reminder.
In the black and white clip, Mariah can be seen on a bike, dressed in a Halloween witch outfit and surrounded by pumpkins.
Calendar pages can be seen flying past her, with the dates of October whizzing by as Mariah patiently waits for her moment to arrive.
And once Halloween hits, Mariah transforms into full Christmas glam for 1 November, with her festive song playing in the background of course.
"It's time," says Mariah, before the song comes belting out.
And fans have gone utterly wild with the idea that it's officially Christmas season, with one person commenting: "Mariah coming to snatch Xmas all over again."
While another added: "It's officially that time of year!!!!"
And a third wrote: "This is ICONIC."
Meanwhile a fourth commented: "Ahhh this is so amazing! The Queen of Christmas has spoken! Thank you for kicking off #MariahSZN."
The track has been a solid favourite at Christmas ever since it was released in 1994 - a whopping 28 years ago.
It's graced the top of the Billboard Hot 100 a number of times and has been ranked as the favourite of all time on the Billboard Holiday 100.
Surprisingly, the song finally reached number one in the UK back in 2020, 26 years after its release.
It was the first single from Mariah's Christmas album Merry Christmas, and peaked at number two when it was first released. It was blocked by another Christmas hit, 'Stay Another Day' by East 17.
The song also set a new chart record - no other song has spent more weeks in the Official Chart Top 40 before eventually reaching Number 1 in UK chart history.
And it's the UK's 84th best-selling song in history, selling 1.24 million pure sales since 1994 according to Official Charts Company data.
People around the world, especially in the UK, truly adore the song and it has become a fixture for Christmas parties, family gatherings and even Christmas-themed workouts since.