Katherine Ryan announces she's given birth to a baby girl
Featured Image Credit: Instagram/@bobby_k__
Comedian and actor Katherine Ryan has welcomed her third child, a baby girl called Fenna Grace.
Her partner Bobby Kootstra announced the news on Instagram, posting pictures of their new daughter and of Katherine during the birth.
Writing on Instagram, he said Fenna Grace Koostra had been born five minutes after midnight this morning (16 December) and praised Katherine for being 'incredible' during the birth.
Bobby praised his partner for 'proving her strength repeatedly throughout the relatively lengthy delivery at home', saying they were 'so blessed' to welcome a new baby girl into their family.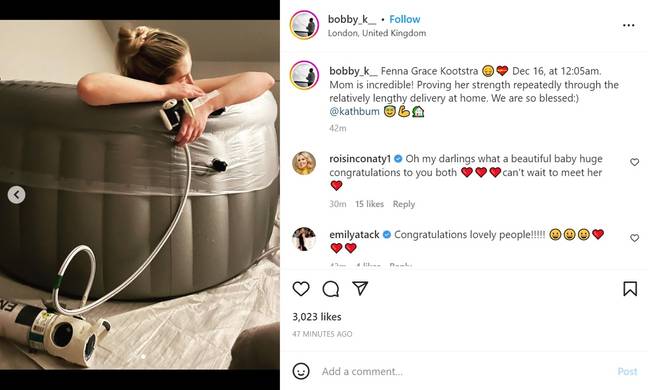 Fenna Grace is Ryan's third child, joining the family alongside her first daughter Violet from a previous relationship and her son Fred with Bobby.
Katherine and Bobby were childhood sweethearts, dating as teenagers and reuniting in later life when the comedian returned to her hometown while filming an episode of Who Do You Think You Are.
Messages of congratulations flooded in, with fellow comedian Roisin Conaty one of the first to wish the couple well by saying 'huge congratulations to you both' and declaring she 'can't wait to meet her'.
Emily Atack, Tom Davis and Thomas Turgoose were among the other famous faces who wished the happy couple well with the arrival of their new bundle of joy.
Some praised the couple for picking a 'Dutch name' for their new daughter, while many just said how 'delighted' they were at the couple's happy news.
Others said their new baby was 'perfect' and the arrival of Fenna Grace was 'a lovely winter gift', while more wished Katherine well after giving birth.
Anyone wondering if the birth of her third child might slow down Ryan's work might remember her not cancelling her tour which she was due to embark on shortly after the birth of son Fred last year.
The comedian previously told Tyla that her experiences of the first few days of motherhood with a new child had been 'night and day' between Fred and Violet, saying the first few days with her new baby had been a breeze.
She joked that he had started life as 'a really quiet, adorable lodger, whereas just after the birth of Violet she had found it 'really difficult' and she 'questioned a lot of my life choices'.
Katherine said she'd learned from experience not to be a 'helicopter mum' and to let dad Bobby chip in and do his fair share of the childcare rather than trying to 'micromanage' everything herself.