Netflix drops Emily In Paris season three trailer
Featured Image Credit: Netflix
Netflix has finally dropped the full trailer for Emily in Paris saison trois and it's set to filled with romance, berets and the most chic colourful outfits. Take a look below:
Fans will be whisked back to the City of Love as Emily (Lily Collins) plays double-duty between marketing firms and it's all getting pretty messy for the marketing executive.
Emily is still taking French lessons, where she met British hunk Alfie (Lucien Laviscount) and while her professional life is a mess, thankfully for us at home, so is her love life.
The American expat is still torn between Alfie and her former beau and on/off love interest Gabriel (Lucas Bravo). In one scene the trio take a train together to a yet-to-be-revealed location but we can already envision the awkwardness unfolding.
Netflix first teased season three in a short first-look trailer which showed Emily making a very difficult decision. Is she finally going to decide on which boy she wants once and for all? Has she figured out which boss she is loyal to?
Well, it turned out to be whether she should get bangs.
One thing that isn't shown in great detail in the trailer is the state of Emily's friendship with Camille (Camille Razat) which turned sour after our favourite fashionista slept with Gabriel, who happens to be her ex.
Emily spent most of season two trying to win Camille's friendship back but unfortunately, Camille quickly cut Emily out of her life.
By the end of the season, Camille and Gabriel were back together literally a few moments before Emily had mustered up the courage to finally confess her love for him.
Also, Emily's boss Sylvie (Philippine Leroy-Beaulieu) made the decision to resign after falling out with her American superior Madeline (Kate Walsh), taking employees and some of Emily's friends, Julian (Samuel Arnold) and Luc (Bruno Gouery) with her. She also tempted some of the company's top clients to follow her on her new venture.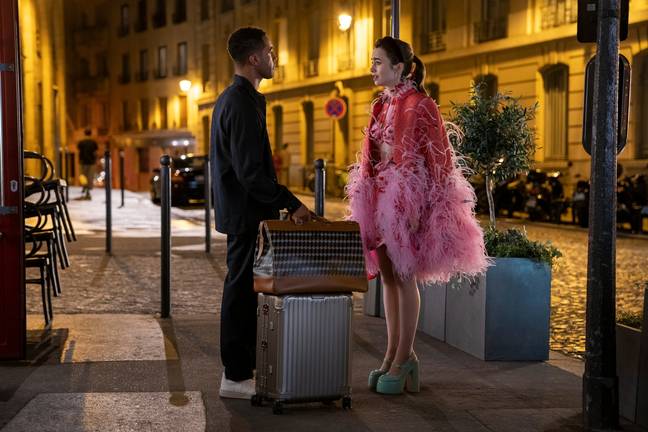 Emily has also been offered a promotion back in her native Chicago, which leaves her with another big decision to make - and we all know Emily's track record when it comes to decision-making.
Will she take Sylvie up on her offer to jump ship and join her new agency, or is she going to stay on course and accept the new role in the US?
We'll be able to find out on 21 December when season three arrives on Netflix.