New trailer for Avatar 2 just dropped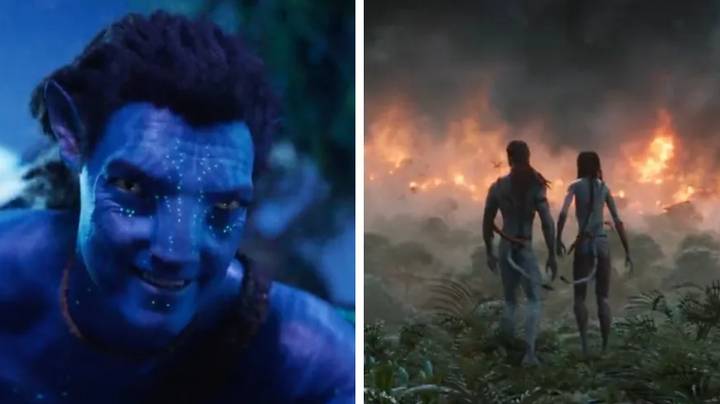 Featured Image Credit: Disney
A new trailer for Avatar 2 has dropped and fans are completely losing it.
There's a lot we want to forget about 2009, we had just started year seven, everyone was wearing luminous glasses, and we had to wait 30 minutes to download a song onto our Sony Ericsson.
The one saving grace of an otherwise lost year was Avatar, James Cameron's blockbuster smash that gave us hope for a dwindling cinema scene.
As if that wasn't enough that director James Cameron was blessing us with a follow-up to his 2009 hit, dropping a second trailer might just do the trick.
The new trailer sees Jake Sully (Sam Worthington) learning more about the Na'vi people on Pandora, with his bold partner Neytiri (Zoe Saldana) and their growing family by his side.
And fans quickly took to Twitter to share their reactions, one fan said "Box-office 100B$ loading....."
Another fan wrote: "This looks epic!!!"
While the excitement continues to mount, fans will have to brace themselves for the film's incredibly long runtime, as Cameron revealed in a recent interview.
The film is set to be an incredible two hours and 40 minutes long.
Though, to be honest, we'd be surprised if we made it through a film titled The Way of Water without any pee breaks, especially since it's a crime to go to the cinema and not get a Tango Ice Blast, so it makes no difference to us.
And Cameron doesn't want to hear any complaining about the runtime, either.
"I don't want anybody whining about length when they sit and binge-watch for eight hours [...] I can almost write this part of the review," the director said in an interview with Empire.
Cameron had some pretty strong words for anyone considering slating the film for its 'agonisingly' long wait time: "It's like, give me a f*****g break. I've watched my kids sit and do five one-hour episodes in a row."
But he's also a reasonable man and understands that our child-sized bladder and giant Tango Ice Blast are not friends: "Here's the big social paradigm shift that has to happen: it's okay to get up and go pee."
So, there you have it, there's a killer new trailer for Avatar 2, which is set to premiere on 16 December 2022 and will be proceeded by another three instalments in the coming years, ending with Avatar 5.
And pee breaks are encouraged.