Woman proves sizes are 'pointless' after trying on multiple jumpers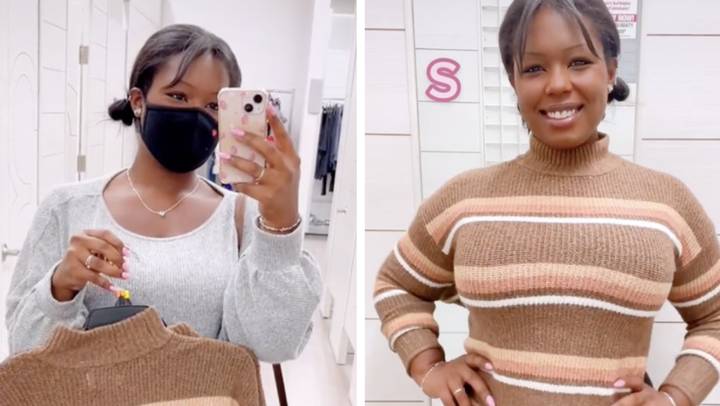 Featured Image Credit: TikTok/@taedriver
Knowing what clothes size you are in different shops can be so frustrating - while you might be a 12 in one store, you could easily be a totally different size elsewhere.
To prove how 'pointless' clothes sizing can be, one woman took to TikTok where she demonstrated trying on three different jumpers, in a small, medium and large - and the results are baffling.
Tae - who goes by @taedriver on TikTok - explained that the video was proof that 'fit is subjective and size means nothing'.
In the clip, Tae picks up three identical jumpers - all in different sizes of small, medium and large - and heads to the changing rooms.
She reveals how each jumper looks on, before adding: "What size would you buy?"
All three jumpers seem to look very near identical, with barely any difference between sizes.
"They all fit," said Tae.
And other users were equally baffled, with many sharing their own stories of confusing sizing in some shops.
One person wrote: "I can literally go from a S to XL in the same store, it makes 0 sense... I like the L best personally because slightly more room to later underneath [sic]."
While another said: "When ppl ask my size, I always say small medium or large."
And a third added: "I have clothes ranging from S-XL all depending on their fit and fabric type."
Another wrote: "My worst buys are when I try to stick to size, especially jeans. They lie so much, just get what feels right to you."
And another commented: "That was the same sweater three times lmao (I know the difference was the sleeves but SHEESH)."
In June, we told you how a River Island shopper was left baffled when she discovered that the four pairs of size 18 jeans she had ordered arrived in 'completely different' sizes.
Zoe had ordered some new trousers - all size 18 high-waisted straight fit - during an online shopping spree, spending a total of £170 on her purchase.
But when the clothes arrived, she was surprised to see a huge size discrepancy between all four pairs of jeans.
The mum-of-two added a 'mind-blowing' photo to her post on social media, which reveals the four pairs of different coloured jeans neatly lined up on her bed with strikingly different-sized waists.
You can read more about that here.