People Are Seriously Divided Over Woman's 'Red Flags' For Her Boyfriend
Featured Image Credit: TikTok @austinandlexi
A woman has taken the concept of 'red flags' quite literally when she decided to let her boyfriend know exactly what she thought of his behaviour.
Check out the video here:
Lexi (who goes by @austinandlexi on TikTok) explained: "So I got these random a** red flags in the mail. Every time my boyfriend does something that p***** me off, he's gonna get a red flag."
Lexi then proceeded to litter, throw and place red flags around her boyfriend, Austin, for his habits and behaviours which she deemed as 'red flags'.
"Like his nasty-a** sweaty socks on the ground - red flag," she said, tossing one of the red flags onto a pile of his socks.
"Leaving the toilet seat up, red flag."
She added: "His wallet, hmm, no pictures of me in it. Red flag."
"Video games?", she sighed while he was playing on his computer. "Red flag."
She then threw one of the red flags at his computer screen, which startled her partner.
Lexi then proceeded to head to the hallway, where a collection of his shoes appeared to be strewn across the floor.
"This is an actual nightmare. Red flags, red flags, red flags," she said, throwing more than one on the shoe pile.
"Hey what are you doing?", Lexi asked her other half, who seemed busy typing away on the computer.
"And not giving me attention?", she asked. "Red flags", she said, now tipping a bunch of the red flags over his head.
"And you're not using a coaster," she added of his drink which was placed on the table.
People are pretty divided over the video, with some praising Lexi for her sense of humour, while others took offence to the clip.
"This was actually comedy gold," Austin himself commented on the clip.
"Not you putting the flag in his Starbucks. Love the energy," another viewer commented.
"This is amazing," someone else wrote.
Meanwhile, others were concerned about the trend.
"I think he needs to gather all of them up and hand them to her as a bouquet of red flags as he walks out the door," one social media user wrote.
"Poor guy looks traumatized," a different person noted.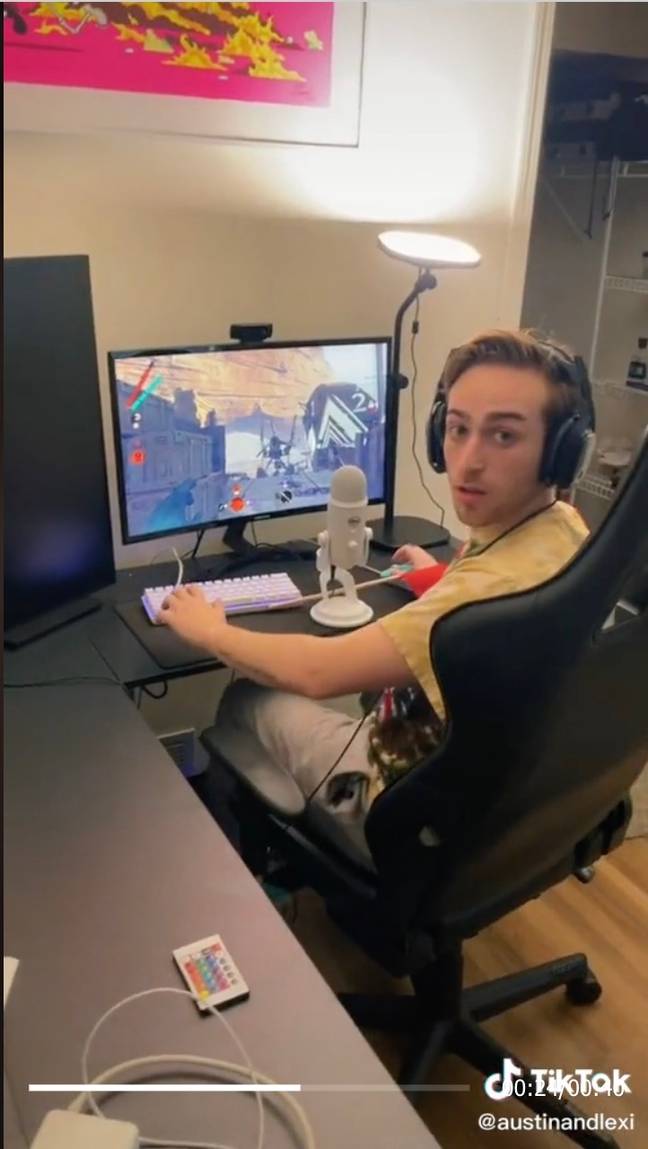 Someone added: "She's a red flag herself".
"I know this is supposed to be funny but it appears to me that she's a red flag lol," someone else wrote.
While this video was obviously created in jest, Elaine Parker, domestic abuse survivor and the founder of Safer Date previously told us that you should always "trust your gut" and leave the relationship if you are genuinely worried about any red flags.
There is always "a way out, but it's extremely important that you reach out and ask for help, as this will make it much easier for you to leave the situation safely."