Woman gets paid to test sex toys with her boyfriend for a living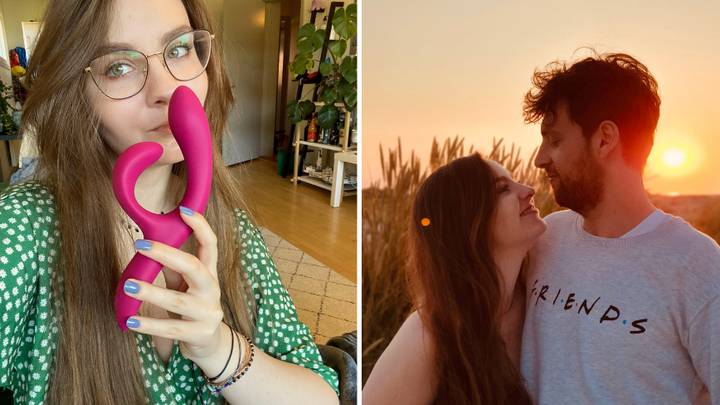 Featured Image Credit: Jam Press/ Bedbible
A woman has shed some light on her unusual job testing out and reviewing sex toys, and says her boyfriend 'couldn't be happier.'
Kasia, 24, from Aarhus, Denmark, says she spends the days testing out vibrators and other gadgets after joining sex toy company Bedbible.
Although Kasia does expect to get backlash from some people, what's more important is that her boyfriend Tomek, 28, is "thrilled" with her new role.
"I was super excited to get the role - can you imagine a more fun job?" she said.
"I am known for choosing unconventional paths in my life and my career, so when I saw the offer, I knew I would fit right in. Tomek couldn't be happier.
"He is really proud to say that his girlfriend works with sex toys, and he can't wait to test ones that are specifically for couples. He is already very engaged in my testing.
"We are already used to using sex toys together, so being able to test new ones together is way more fun than doing it on my own.
"Plus, I think it's important for my reviews to see if this toy can be used in other ways. There is a misconception that sex toys are meant for solo fun, but it's a great addition for couples."
Kasia answered an advert from the company that was looking for a candidate to test out their range of products.
The position involves reviewing five sex toys from a category of their choice, before submitting a full report to the brand.
The job description said the chosen candidate would need to test a variety of sex toys in "whichever way they'd like", describe the pros and cons clearly for the overall review, and advise who they think the toy is most suitable for.
The company said: "The ideal candidate should love all things sex-related, be passionate about mind-blowing orgasms, be willing to sample a variety of sex toys, and possess excellent communication skills."
They added that "being experimental in the bedroom is a bonus".
Although she was "nervous" to share her thoughts at first, Kasia is now to help others improve their own sex and masturbation experiences.
"It's pretty uncomfortable to write something as intimate and then have it reviewed by the office and published for strangers on the internet," she said. "But thankfully, the team is super supportive."
Kasia works the unusual job alongside her full-time 9-5 as a content creator intern, and reserves her testing and reviewing to the weekends.
"My favourite toys so far are the Lelo Smart Wand and the Wee-Vibe Nova 2 – a rabbit vibrator that I had the pleasure to review," she said.
"I do feel a bit like Carrie from Sex and the City (but without designer shoes), and I hope to be able to write more and more."