Peaky Blinders Creator On How Helen McCrory's Death Influenced The Season 6 Plot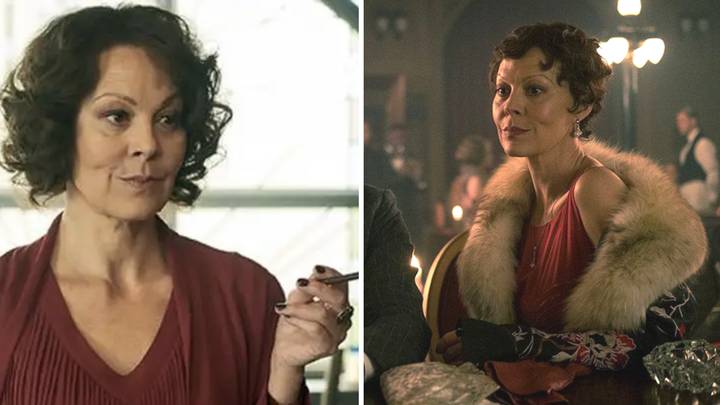 Featured Image Credit: BBC
Steven Knight has revealed how the death of Helen McCrory influenced the plot Peaky Blinders series 6.
The screen legend, who portrayed Shelby matriarch Polly 'Aunt Pol' Gray, died aged 52 in April 2021 after a private battle with breast cancer.
Production on series 6 continued days after her death, with the cast still mourning the loss of their friend and co-star.
Ahead of the premiere of the sixth and final series later this month, writer and series creator Steven teased what's in store for the final batch of episodes and how Helen's death was one of the reasons the team decided to end the show.
"The reason is boringly practical which is that we lost a year due to the pandemic," he said, explaining the delay of the sixth series. "The way these things are scheduled – it's like turning an oil tanker around.
"We just felt, also with the loss of Helen [McCrory], that it all seemed to be pointing towards doing what I'm calling 'the end of the beginning.' Let's end the beginning, then let's do the film. And then let's see where we go in terms of spin offs."
Steven previously confirmed that a film will continue the Peaky Blinders story instead of a seventh series although it's currently unclear which characters will appear in the movie.
Yep, the Peaky Blinders universe is expanding!
The cast and production team behind the popular BBC crime series shared tributes to Helen and her character.
Series executive producer Jamie Glazebrook said Polly is a "vulnerable" character and the late actress "projected so much joy" in Polly which viewers loved.
"She has a very, very hard life and is presented with hard choices," he said. "So on one level, you'd always think she wants to get out, leave the family, leave the organisation. But she knows she shouldn't, because even though she could exist outside she has that loyalty, so she can't.
"It's that vulnerability that makes those moments where she is kick ass".
He added: "Because Helen projected so much joy in that character. And you can see why viewers just embraced her so much."
Sophie Rundle, who plays Ada Shelby in the Brummie gangster series also praised Helen's acting and said she and the other cast members "gravitated around her".
Sophie said: "She took that character, and she just ran with it.
"Polly's way more terrifying than Tommy Shelby! This was one of my first ever jobs after drama school – same for several of us - so we all kind of gravitated around her.
"Once you think about Polly then you've got the natural fallout of like, what is Tommy Shelby's sister like; what is Tommy Shelby's wife like; who does he look up to; who does he want to be like?
"You've got these smart, badass women who grew up around guns and knives. And it's only natural that they would be as terrifying as the men."
Natasha O'Keeffe, who plays Lizzie, said: "When I was working alongside Helen as Lizzie with Polly there was this learning that was going on. I was looking and learning - and also Lizzie was looking and learning from this incredible force and this matriarch - how to hold herself; how to dress herself; how to function in this seeming man's world."
Peaky Blinders returns to BBC One and BBC iPlayer on Sunday 27th February at 9pm.