Fans Shocked By Philip Schofield's 'Stairs' Joke During Michael Peterson Interview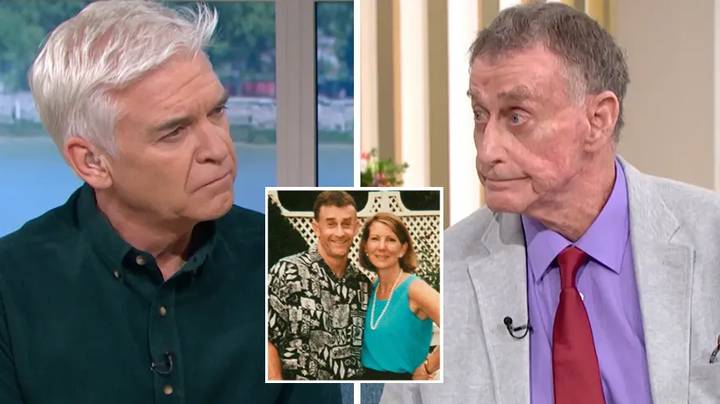 Featured Image Credit: ITV/Netflix
Fans have been left shocked after Phillip Schofield appeared to make an ill-timed joke about 'falling down the stairs' during an interview with Michael Peterson on This Morning.
Michael, 78, appeared on the ITV morning show after becoming the subject of a hugely popular Netflix documentary series, The Staircase, which tells the story of his wife's murder trial in 2003 as he was convicted for pushing Kathleen Peterson down a flight of stairs.
However, fans were taken aback by the way the presenter spoke to Michael towards the end of the interview on Wednesday, 25 May, as Phillip joked about the convicted felon himself slipping downstairs.
Phillip, 60, said to the interviewee on the show: "In a remarkable twist of fate, our team member who was looking after you yesterday saved you from falling down the stairs."
Peterson appeared to be confused by Philip's joke as he continued: "Oh, you don't remember that one either."
Viewers took to Twitter to share their shock at the seemingly inappropriate comments from Schofield, with one saying: "#ThisMorning Phillip Schofield should never take the p***, even in the Michael Peterson interview.
"At the end having a laugh about a fall down the stairs, remember a poor woman died Schofield… #norespect," they concluded.
Another onlooker said: "Phillip Schofield couldn't have been more rude to Michael Peterson. He doesn't have to come on your show and give you publicity…#ThisMorning."
"Just caught Phillip Schofield on #ThisMorning interviewing Michael Peterson. Despite Schofield's personal stance, he lacked any sort of professionalism with every word dripping cynicism, sarcasm and disregard – in complete contrast to Holly Willoughby. Turning off."
Tyla has contacted ITV and a representative of Phillip Schofield for a comment.
Eight years on from the original trial, Michael was granted a new trial after a judge ruled a critical prosecution witness provided a misleading testimony. He then submitted an Alford plea in 2017, leading his charge to be reduced to manslaughter.
The judge then sentenced Michael to time already served, and he walked free.
This Morning airs weekdays from 10am on ITV and ITV Hub.