Fans Are Obsessed With Margot Robbie's Barbie Voice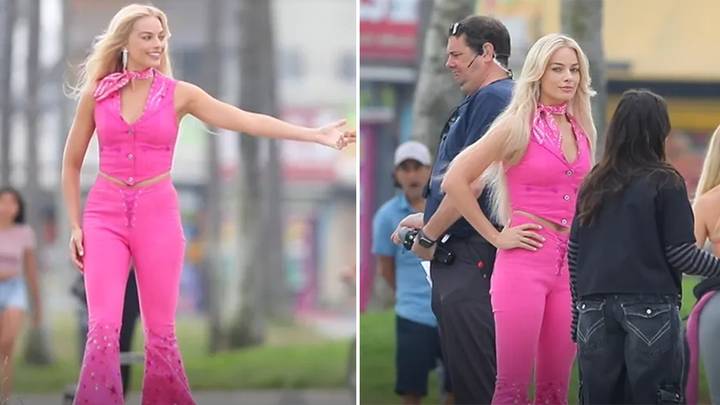 Featured Image Credit: Backgrid
Aussie actress Margot Robbie has sent the internet into a frenzy after a snippet of her Barbie voice went viral on Monday (27 June).
The 31-year-old was spotted shooting the highly-anticipated flick, which is directed by Greta Gerwig, in Venice Beach alongside her co-star America Ferrera.
And the I, Tonya star wasn't hard to spot as she donned a hot pink waistcoat and flares while skating on roller blades for the scene. Check it out here:
While the costume sneak-peek was sure to thrill fans, many got into tizzy when a clip of Margot speaking as her character Barbie surfaced online for the first time.
In the clip, the dialogue between Robbie and Ferrera is muffled as they skate towards the camera but as they get closer, the former Neighbours star enthusiastically asks "Ready for fun?" in a voice you'd exactly expect of Barbie – high-pitched, American and bubbly.
In response to the video, many took to Twitter in their droves to share their excitement over the upcoming flick, which is set for release on 21 July, 2023.
One penned: "She is the moment and she will always BE the moment omg."
"No joke I'm very excited to see this," another commented.
A third claimed: "She's getting that [Oscar]."
"I'm gonna be watching this movie so many times I'm not joking scar!!!" a fan added.
Back in April, Warner Bros. released a first look snap of Robbie as Barbie. The photo, which set the internet alight at the time, saw Margot sitting in her Barbie-pink convertible dressed all in blue.
The live-action film's synopsis reads, according to IMDB: "A doll living in 'Barbieland' is expelled for not being perfect enough and sets off on an adventure in the real world."
The Wolf Of Wall Street actress stars opposite Kate McKinnon, Simu Liu, Alexandra Shipp, America Ferrera, Ncuti Gatwa and Ryan Gosling, who plays Ken.
Earlier this month, fans were left unimpressed by Gosling's new look in the flick, and claimed that a younger actor should have been cast in the role.
One person wrote: "Wrong casting. It needed younger actors!"
Another added: "Why is a 40 year old playing Ken? Weren't Barbie and Ken supposed to be like in their twenties?"
Others believe Zac Efron could have been a better fit, with one insisting: "I'm sorry, I love Ryan Gosling as much as the next girl. But Zac Efron has been living his life as a Ken doll since his Troy Bolton days. The man CRIED when he got to eat carbs for the first time in 6 years. That's my Ken."
Others totally disagreed, however, with another adding: "Ryan Gosling as Ken in #Barbie is actually perfect."
A second said: "Why is everyone hating on ryan gosling as ken?!?! He's perfect!!"
Barbie is set for release on 21 July, 2023.