Love Is Blind's Paul Peden says he dated another cast member after Micah split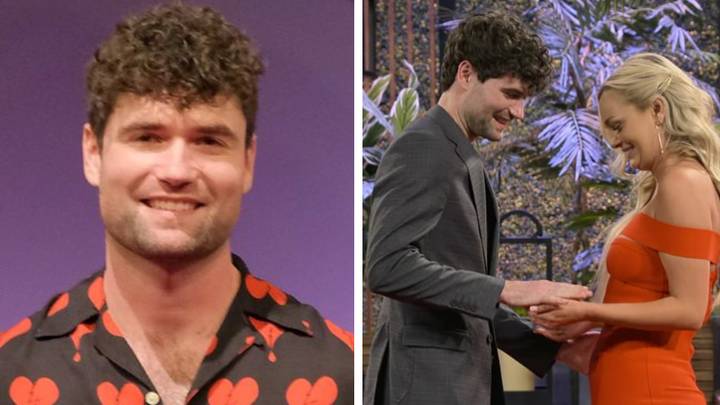 Featured Image Credit: Netflix
Warning: Major Love Is Blind season four spoilers ahead!
Of the four couples to actually walk down the aisle in season four of Love Is Blind, only one decided to call it quits at the last minute.
That couple was environmental scientist Paul Peden and marketing manager Micah Lussier.
Paul was tearing himself apart of the day of the wedding, trying to decide whether or not he had made the right decision proposing to Micah.
When his fiancée-to-be asked him to go first during their nuptials, he decided, supposedly on the spot, that he couldn't go through with it.
Among his reasons for turning Micah down at the last minute, the couple just weren't that compatible.
When the dust had settled, though, Paul decided to reignite a spark that he had had with another contestant in the pods - but it seems they had the opposite problem.
"There was another girl Wendi, the aerospace engineer," Paul told E! News.
"I talked to her a lot. I had an insane connection with her."
You probably don't remember 29-year-old Wendi Kong because she didn't get a whole lot of screen time this season.
But, in the background, she and Paul apparently hit it off big-time.
When he reconnected with Wendi, Paul says he went on a few dates with her, but the pair never ended up being exclusive.
The problem? They were actually *too* compatible.
"It's almost too much," he joked.
"I like myself, but I don't know if I like myself that much that I want to marry myself. We were really similar."
Funnily enough, Wendi actually got engaged in the pods too, but her story with fellow contestant Jimmy Forde was never shown.
According to Netflix's fan-site Tudum, the couple dated for about three months before going their separate ways - after which, she started dating Paul.
Some fans might have expected Paul to reconnect with contestant Amber Wilder after his failed engagement.
Before he proposed to Micah, Paul was seen going back and forth between her and Amber.
And while Paul did meet up with Amber outside of the pods, he insisted that there was no spark there, either.
"We had a cordial moment of a no hard feelings kind of thing and an acknowledgment of the connection that we had that was real," Paul shared.
"But we didn't date or anything like that."
Meanwhile, Tiffany and Brett, Chelsea and Kwame, and Bliss and Zack successfully made it down the aisle and are now enjoying married life.
And, although Jackie and Marshall called it quits before making it to their wedding day, she is dating fellow contestant Josh, and the pair have even moved in together.