House of the Dragon fans left horrified by 'disturbing' birth scene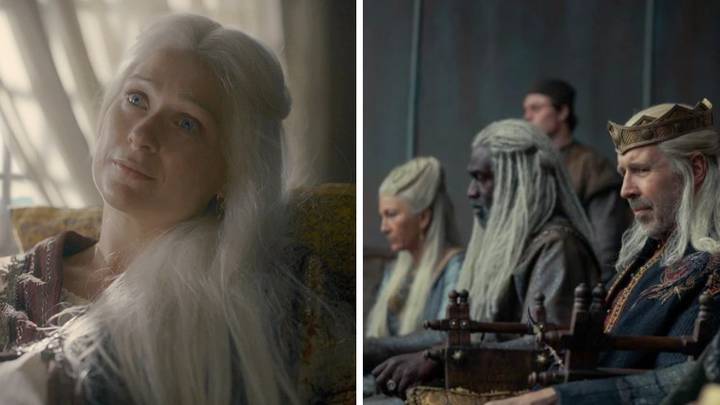 Featured Image Credit: HBO
Trigger warning: Birth trauma and baby loss.
House of the Dragon dropped on HBO Max last night, and received an overwhelming amount of viewers to the streaming platform who wanted to tune into the popular Game of Thrones prequel.
However, many viewers have been left horrified by a 'disturbing' birth scene in the series premiere which had a tragic outcome. Watch the video below:
Warning: House of the Dragon spoilers ahead.
In honour of Queen Aemma's (Sian Brooke) pregnancy, a tournament is held in Kings Landing to celebrate King Viserys Targaryen I's (Paddy Considine) potential heir when Aemma unexpectedly goes in labour.
When her waters break, Viserys leaves the tournament to be with his wife.
He is then informed by the Maester that the baby is lying in a breech position - where the baby is bottom or feet first or sideways, rather than head-fist.
Viserys must then choose to either leave the outcome of the birth 'up to the Gods' or allow them to proceed with a Caesarean section to deliver the baby.
In the undoubtedly 'triggering' scene, Aemma is pinned to the bed as her husband tries to keep her calm by explaining that they're going to assist her to give birth to the baby and that he loves her.
She quickly spots the Maester coming towards her with a knife, and she screams for them to stop but it's no use.
They cut the Queen's abdomen in an attempt to deliver the child, with her husband knowing that they don't have the medical advancements to allow the Queen to survive the procedure.
Eventually, at the Queen's funeral, viewers found out that their child, a boy named Baelon, also died hours after birth.
queen aemma's death was really hard to watch

— ashxtarte (@ashxtarte) August 22, 2022
Understandably, viewers were traumatised by the turn of events and quickly took to social media to share their thoughts on the scene.
"I still can't get over that c-section and Queen Aemma's death, that poor woman," said @i_destiny, while @emmaflach called the procedure 'murder'.
"Is it just me or was queen Aemma's death actually murder? I SOBBED during this scene, brutal #HouseOfTheDragonHBO," they penned on the site.
Another viewer, @daanielleee_ct, added: "Queen Aemma's death was traumatic AF. I was so mad #HOTD."
If you have experienced a bereavement and would like to speak with someone in confidence, contact Cruse Bereavement Care via their national helpline on 0808 808 1677.
If you need support and advice following a pregnancy loss, you can contact the Tommy's team at [email protected] You can also call them for free on 0800 014 7800 Monday to Friday, 9am to 5pm.