Harry Potter Fans 'Crying' After Realising Why Ron Rubs Harry's Head In Scene
Featured Image Credit: Harry Potter/Warner Bros
The last Harry Potter films might have been released over a decade ago, but fans of the hit series are still noticing cute details.
Case in point, this scene from early on in Harry and Ron's Hogwarts career when Ron affectionately rubs Harry's head as they celebrated with the other students.
It was posted to Reddit's Harry Potter forum and was captioned: "The feels."
As any fan of the series knows, Harry himself is an orphan and the closest he had to a brother growing up was his cousin Dudley, who treated him cruelly.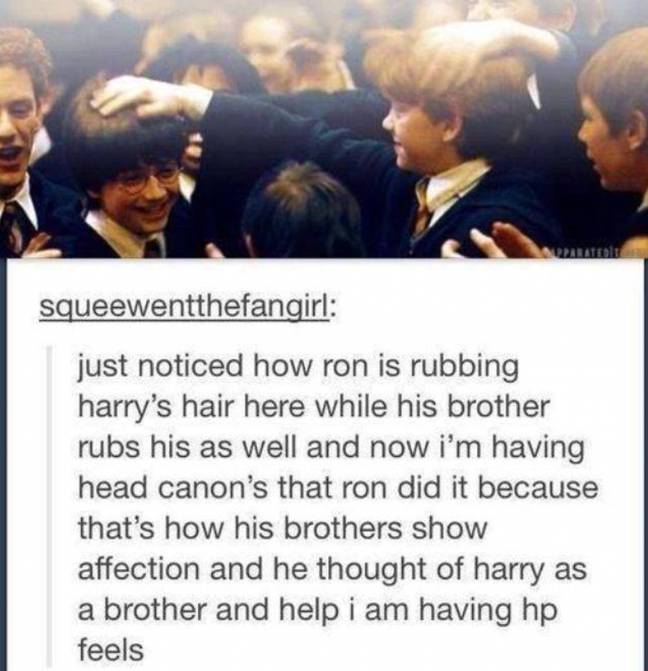 The picture unsurprisingly didn't go unnoticed among the Harry Potter fandom, who are still alive and well.
Reacting to the post, one fan joked: "Ron can't believe that bowl of a haircut could possibly be real and so he's testing for a wig."
"This is how Brits say jolly good show in sign language [sic]," added a second.
A third added: "My theory is that they are both human beings. Big if true."
"Their smiles are so adorable!" wrote a fourth.
A fifth speculated: "Ron is secretly trying to see Harry's scar once again and to flex with other students that he is friends with 'the boy who lived'."
"Yes, as someone whose older brother did this to him, I have always held this belief," added a sixth Reddit user. "I saw it and immediately thought of my brother."
This sweet post comes after Rupert Grint, who played Ron, told The Independent in 2018 about how the Harry Potter cast was like a family to him.
"I always remember, the few times I did go back to school to do exams, I felt a real detachment from my peers. We had very little in common, which is quite isolating in a way. Which is why I think it felt like such a strong family unit on set. When you're in it, you don't really think about that."
What's your favourite little detail from the Harry Potter films?