Emmys 2021: Gillian Anderson Confused Viewers With Her Accent When Accepting Award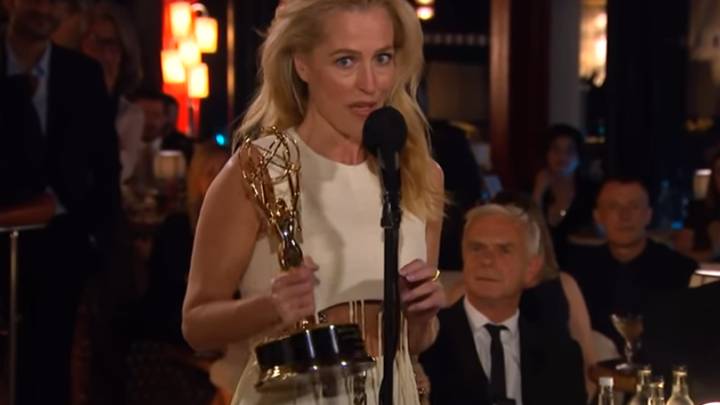 Featured Image Credit: CBS/Paramount+/YouTube/Television Academy
Gillian Anderson won the Award for Best Supporting Actress in a Drama last night at the 2021 Emmys for her role as Margaret Thatcher in Netflix's fourth season of The Crown.
While many fans were delighted at her win, there were plenty of viewers confused at Gillian's accent.
Watch her speech below to find out why:
For those of us over the last year who have watched Gillian in The Crown, and maybe even this weekend in Sex Education, you might have been fooled thinking she was British.
But as the clip shows, she's in fact an American.
This was a surprise to a lot of viewers.
One person tweeted: "The fact that Gillian Anderson has an American accent continues to blow my mind #Emmys".
Someone else was truly in shock over the speech: "I was today years old when i learned gillian anderson does not always have a british accent and she was born in the us i had no idea until she gave her emmys speech and now i need to recover".
Another was impressed by her acting abilities: "Gillian Anderson's deserved the Emmy for her British accent alone. Baffles me that she is American."
One viewer explained it was odd to hear her natural speaking voice after seeing her as numerous British characters: "After The Crown and Sex Education, it's strange to hear Gillian Anderson's American accent again. #Emmys".
Someone else listed all the British actors that won and decided to include Gillian in that line-up: "British Emmy winners tonight: John Oliver, Josh O'Connor, Olivia Colman, Kate Winslet, Tobias Menzies, Brett Goldstein, Ewan MacGregor, Hannah Waddingham, Peter Morgan, [Michaela] Coel, and Gillian Anderson (even if she was using her American accent)."
Gillian did grow up between London and Michigan, meaning that ability to switch accents might come quite naturally to her. She's lived in London since 2002 as well as, but none of this detracts from how convincing she was as Britain's first female Prime Minister, Margaret Thatcher in The Crown.
Gillian has also reprised her role as sex therapist Jean Milburn in third series of Sex Education that came out last week.
Will that role see her make another speech at next year's Emmys?