Bridgerton Fans Spot Nod To Episode 1 In Season 2
Featured Image Credit: Netflix
Eagle-eyed fans of Bridgerton have been noticing a number of easter eggs and special meanings within the show, and one fan has just shared another discovery.
Posting to Twitter, they shared a similarity between the introductions of season one's love interest Simon Basset, and the love interest of season two Kate Sharma.
Both of them are first seen riding horses.
This isn't the only similarity between the two - both of them begin the story have seemingly sworn off marriage. Simon vowed he would never marry or continue on the Hastings line to his dying father, while Kate wishes for her sister to marry while she herself will return to India become a governess.
Nevertheless, both of them end their respective seasons married to a Bridgerton, and Simon even has a son and heir.
Fans of the book have also noticed a similarity between these introductions and the forth Bridgerton romance, Romancing Mr Bridgerton, which focuses on the character of Colin.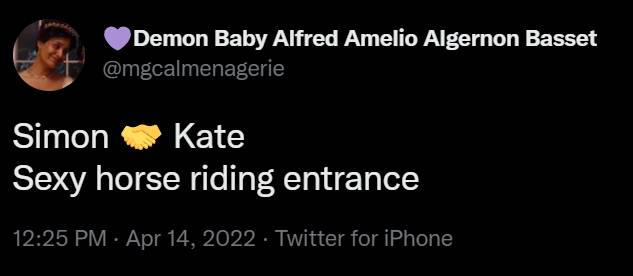 Talking about the characters riding horses one fan wrote: "And then Colin falls off a horse at the beginning of his book lol"
While another added: "Give me Colin trying to be sexy on a horse and Penelope's bonnet sending him into a puddle though"
In yet another parallel, Kate also falls off a horse at one point. Although he accident is far me dangerous and life-threatening than Colin's.
As we wait for more seasons of the show we're left wondering just how many more romantic leads will be introduced on horseback.
And it's not just horses - fans are noticing special meanings in scenes throughout the show.
One that was spotted recently is the recurring motif of bees - this being a nod to Edmund Bridgerton the patriarch of the family who tragically died due to an allergic reaction to a bee sting.
Bees have been seen multiple times in the show including on the clothing of the Bridgerton siblings.