And Just Like That: Sex And The City Fans Left Cringing Over Miranda And Steve's Kitchen Scene
Featured Image Credit: HBO
If you've been watching And Just Like That, you'll know things have not been going well for Miranda and Steve.
Long gone are the Sex and the City halcyon days where the pair just couldn't resist each other – the pair's once strong attraction and chemistry is well and truly in the toilet.
After Miranda's drunken dalliance with Che Diaz in Carrie's flat (while Carrie peed herself in bed), she has been realising how empty her marriage has become.
Having previously told Charlotte she was no longer having sex with Steve, Miranda has instead begun to pleasure herself in bed to the memories of her time with Che.
However, after reaching out to Che and not getting a response, she decides to give her sex life with Steve another go, jumping on him as they're putting food away in the kitchen.
But the passion quickly falters, and the pair stop trying to make it happen – particularly as Miranda isn't feeling particularly stimulated by Steve.
The moment left And Just Like That viewers averting their eyes away from the screen as they found the scenes just too awkward to bear.
Taking to Twitter, one fan wrote: "That 'sex scene' in the kitchen was triggering. Lol ."
A second agreed: "I'm SCREAMING at this kitchen scene with Miranda and Steve.."
"Watching Miranda and Steve in the damn kitchen," said a third, adding a gif of Cheryl of Girls Aloud fame looking particularly pained.
"This scene is sadder than Big's heart attack," quipped a fourth.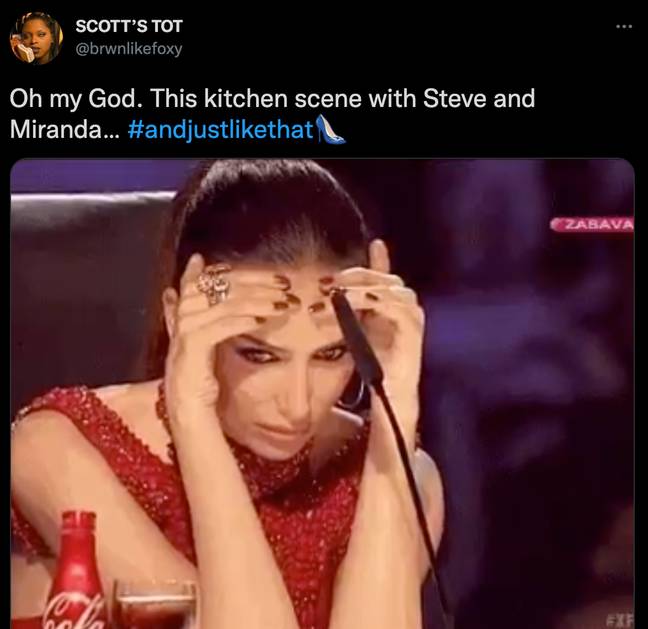 A fifth protested: "I don't want anymore kitchen scenes with Miranda!!" and a sixth complained: "Miranda gave Steve one minute to get in the mood for sex in the kitchen where he doesn't want to get caught by their son and his girlfriend before she rejects him so she can leave him for Che.
Fans have not been happy at Miranda's dismissive treatment of Steve in the series.
Many have complained the bar owner deserves better than to be cheated on and ridiculed, particularly as he was one of the best loved characters in the original series.
You can read more about that here.
And Just Like That airs Thursdays on Sky Comedy and NOW.