Kate Middleton and Prince William's children made their debut during a carriage ride at Trooping the Colour on Thursday (2 June), as the public's annual celebration of Queen Elizabeth's birthday began.
And onlookers couldn't help but notice an adorable moment when Princess Charlotte, seven, stopped Prince Louis, four, from waving during the parade.
The siblings sat next to each other beside their older brother Prince George, eight, across from their mother Kate and Camilla, the Duchess of Cornwall, in the carriage when the hilarious moment ensued. Watch the clip here:
Fans of the Royal family took to Twitter to revel in the sweet moment between Louis and Charlotte, with one viewer of the parade dubbing her as 'the next Princess Anne' - Charlotte's great aunt.
"I clocked that... absolutely hilarious. Charlotte is definitely the next Anne," one onlooker said.
Another viewer then responded to the above comment: "We need another Anne for the next generation…she'll keep everyone on their toes."
"Pace yourself, Louis you've got a whole lifetime of waving," another quipped.
Someone else wrote: "Hahaha. And he starts waving again straight away - typical big sister/little brother. Love it."
A different viewer tweeted: "Louis will be a heart shaker and Charlotte is the boss! George is William, through & through."
"How lovely is this, the children look happy," another commented.
"So masterfully executed. Haha. It's lovely to see them interact in this way," a different viewer wrote.
"I can see her already bossing her brothers around," someone else added.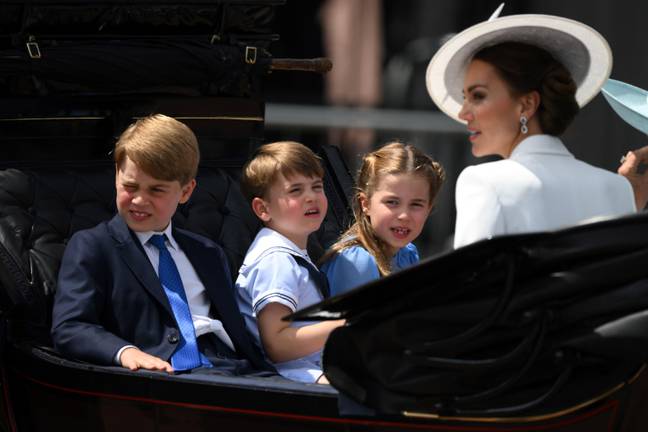 "Precious! Didn't stop him though," another commenter said.
Another person added: "Omg they're so cute."
"Let little Lou wave," another pleaded. "SO CUTE! All of them!"
The carriage transported the family to the Horse Guards Parade, where other members of the Royal family - including the Duke and Duchess of Sussex - were waiting.
Trooping the Colour signifies the first day of festivities for the four-day Platinum Jubilee weekend.
The parade is set to be followed by a Service of Thanksgiving at St Paul's on Friday, a Party at the Palace on Saturday with the weekend's celebrations ending with the Platinum Jubilee Pageant on Sunday.