School girl left 'crying with joy' after Kate picks her to place corgi tribute to the Queen
Featured Image Credit: Doug Peters / Alamy Stock Photo / PA Images
A young schoolgirl was left 'crying with joy' when Kate Middleton picked her out from a crowd to place her tribute to the Queen among the stunning display of flowers.
The Prince and Princess of Wales had been greeting members of the public at the barriers of Sandringham House, when she spotted eight-year-old Elizabeth Sulkovska with a little Corgi teddy in her hand.
Kate brought the young girl, dressed in her school uniform, through the barriers and walked her over to the enormous sea of floral tributes to Queen Elizabeth to add the Corgi to the pile.
Elizabeth's classmates watched on from behind the barrier with Union Jack flags in their hands, as the schoolgirl chatted with the princess.
After the sweet exchange, the overjoyed little girl recalled: "I went with her to put the flowers and the corgi down. She said, 'Where do you think we should lay the flowers?' and I said 'We should put them there'."
Meanwhile, Elizabeth's headteacher, Gregory Hill from Howard Junior School in King's Lynn, described the moment as 'just a wonderful, amazing opportunity'.
Hill said: "Elizabeth was overwhelmed, she cried with joy at being chosen. It's just a wonderful, amazing opportunity."
He later claimed that the death of the Queen has also 'touched a young generation'.
"The older generation obviously knew the Queen for longer but young children that haven't experienced the Queen for long on the throne still are greatly moved by her passing, and really want to do their best to celebrate her life and legacy and never forget her."
Earlier in the week, teacher Elaine Gee had the opportunity to speak to Prince William about how he and Kate were handling things and helping their children through the difficult time.
Recalling her exchange with William, Elaine, 58, told People: "He spoke about George, Charlotte and Louis, saying that they were trying to keep some sense of continuity for them at school and keep things as normal as possible."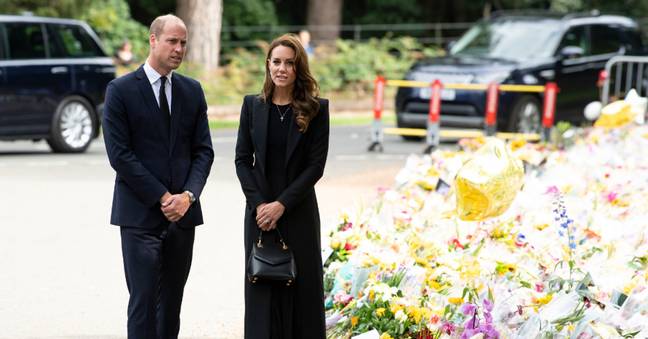 She also had a chance to speak with Kate and took the opportunity to praise her on how well she was handling herself, despite the intense grief she must have been suffering.
"Catherine thanked me, and she said that all the nation were feeling it," the teacher said.
"They were both very kind and gentle and genuine. It was very special - definitely a moment I will always treasure."
Following her death last week, the Queen's funeral will take place on 19 September at Westminster Abbey, with the service beginning at 11am.