Mum welcomes twins after conceiving one through IVF and one naturally in different uteruses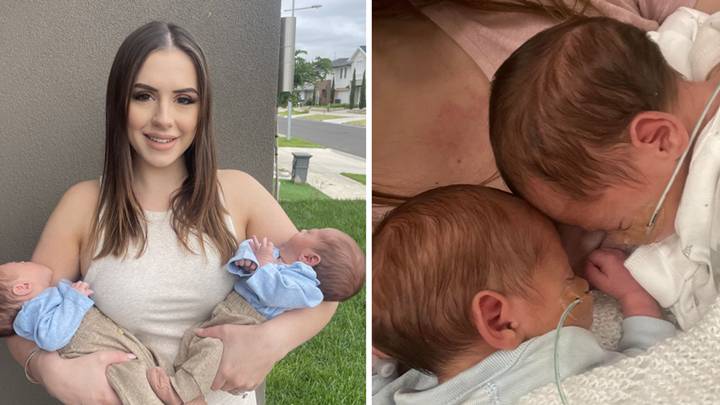 Featured Image Credit: Caters News Agency
A new mum was left surprised and delighted after finding out she was having twins, from two different uteruses.
Mum-of-two Madeline Kaklikos, 24, was born with a rare condition called uterine didelphys, which means that she has two separate uteruses.
She and her husband Jon, 27, had been trying to conceive using IVF when they discovered the extraordinary condition.
However the pair were in for a surprise when they found out that Madeleine was pregnant with a baby in each uterus.
One twin had been conceived by IVF, while the other had happened naturally.
Cole and Nate were born on 20 February and medics described the miracle twins as being 'one in 50 million'.
The young couple went through 10 attempts at fertility treatment, and had begun to fear they would never have children. Madeline had previously been diagnosed with PCOS when she was 18, so already knew it might be more difficult for her to conceive.
But she and Jon were delighted after expecting one child from their IVF treatment and the other unexpectedly.
Madeline said: "After 10 rounds of fertility treatment and years of trying to conceive, it never crossed our minds that we would fall pregnant naturally while undergoing IVF.
"In 2020, Jon and I started trying for a baby but after a while when nothing happened, we decided to get checked out to see if there were any problems.
"I'd already been diagnosed with PCOS in 2017, when I was 18, and knew it would be difficult to conceive. However, during an ultrasound to investigate further, it was discovered that I actually have two uteruses and I was diagnosed with uterine didelphys (UD)."
Medics initially implanted five eggs into the uterus on Madeline's right side, which was deemed to be more accessible, but sadly the first round of embryos didn't take.
Madeline said: "We kept trying, but by the time I had my eighth round, I was terrified we'd never have a baby. It was a dark time, and I really struggled to find hope."
Eventually on the 10th round of IVF the treatment was successful, and Madeline and Jon got the news that she was pregnant.
She said: "I was with Jon, my parents and brother, at the time of the call, and we all erupted into screams and had tears streaming down our faces as we hugged."
10 weeks later while going for a scan, the pair received the incredible news that Madeline was in fact carrying twins, one in each uterus.
The mum explained: "The pregnancy was classed as high-risk, and our doctor said a second baby could risk everything. We were terrified, but we both agreed that both of our twins were meant to be, so continued with both pregnancies. The pregnancy went fairly smoothly and I felt very safe because I was under constant monitoring."
Madeline game birth to the twins by C-section on 20 February. She had to have a C-section due to the complications around the wall separating one uterus from the other.
Proud mum Madeline was overjoyed, saying: "In the end, doctors were able to deliver our beautiful twin boys, Nate and Cole, through one external incision. When I was able to hold my babies for the first time, I felt like my heart was going to explode."