The Wanted's Max George Says He Still Texts Tom Parker Following Heartbreaking Death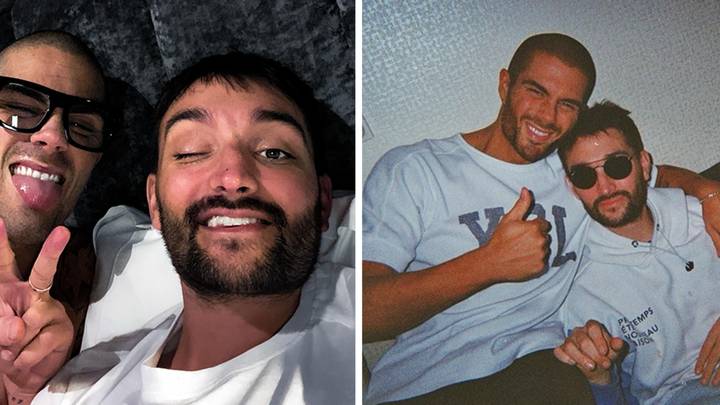 Featured Image Credit: @maxgeorge/Instagram
Max George has revealed he still sends text messages to his late band member Tom Parker.
Tom passed away in March aged 33 from an inoperable brain tumour. His band mates, including Max, Nathan Sykes, Siva Kaneswaran and Jay McGuiness, attended Tom's funeral in April and served as pallbearers.
Max also delivered a eulogy for his 'brother' during the funeral service at St Francis of Assisi church in Petts Wood, south-east London.
Max appeared on This Morning today (31 May), where he spoke to presenters Alison Hammond and Dermot O'Leary about Hope, the book Tom completed before his tragic death.
"I still text him actually," he admitted. "If I get pictures of stuff that fans have made with him in it, or they send a nice message to do with Tom, I'll WhatsApp it to him still.
"I think I just find a bit of comfort in that. The worst bit is when I do it accidentally. Sometimes you just go to text and then you [remember he's dead]."
Before Tom's passing, he joined his bandmates during their UK tour in March 2022.
Tom was also supported on tour by his wife Kelsey, 32 and their children, Aurelia, two and Bodhi, one.
He was diagnosed with a terminal brain tumour in October 2020 after suffering a series of "unexplained" seizures during the summer months the same year.
In January 2021, Tom told fans that his brain tumour had shrunk in an Instagram update. In November he announced on Instagram that his brain tumor was under control.
Tom had 30 rounds of chemotherapy and 30 radiotherapy sessions to treat his grade four glioblastoma and fought hard to join his bandmates on their UK tour in March.
Kelsey told The Sun on Sunday Tom requested to go to a hospice after the conclusion of the tour where they shared 'romantic' final moments together.
"There was so much love in that room," she said, describing holding her husband's hand for the last time.
For help and support visit the Stand Up To Cancer website here.