Adam Levine has spoken out about allegations that he had a 'year-long' affair with a model off Instagram.
On Monday (19 September), Instagram model Sumner Stroh took to TikTok to claim she had been involved in an affair with Levine, best known for being in Maroon 5, and felt 'exploited' by the 43-year-old.
The musician has since responded to Stroh's claims.
Levine took to his Instagram stories to address the speculation, writing: "A lot is being said about me right now and I want to clear the air. I used poor judgment in speaking with anyone other than my wife in ANY kind of flirtatious manner.
"I did not have an affair, nevertheless, I crossed the line during a regrettable period of my life.
"In certain instances it became inappropriate. I have addressed that and taken proactive steps to remedy this with my family.'
"My wife and my family is all I care about in this world. To be this naïve and stupid enough to risk the only thing that truly matters to me was the greatest mistake I could ever make.
"I will never make it again. I take full responsibility. We will get through it and we will get through it together."
Stroh called herself 'young and naive' and 'very easily manipulated' when she claims she first got involved in Levine.
She alleges they saw each other for 'about a year,' but that he came back into her life to ask her whether or not he could name his next baby - if it were a boy - Sumner.
While saying this in the TikTok clip, Stroh moves to the side of the screen to show alleged Instagram dms sent to her by Levine.
"My morals were unknowingly compromised, I was completely manipulated," the Instagram model states.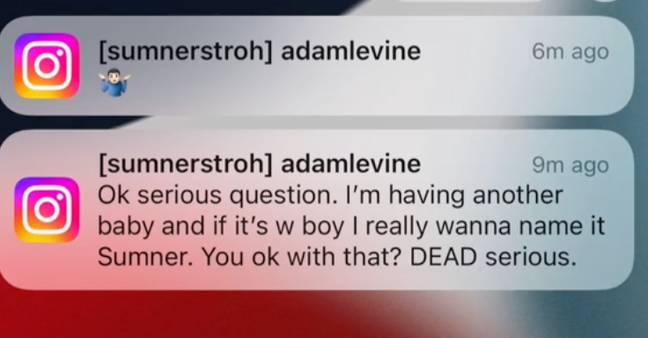 Stroh goes on to explain how she 'never wanted to come forward' because of the 'implications that come with doing what [she does]' and how she makes money from social media.
However, the model said how she felt forced after one of the people she sent screenshots too - who she previously thought she could trust - tried to sell them to a tabloid.
In part two of the video, Stroh noted that 'hindsight is 20/20' and explained she feels 'remorseful, embarrassed' and 'disgusted with [herself]'.
She concluded: "As soon as I realised that was not the case (his marriage wasn't over) I cut things off with him. In retrospect I wish I questioned things more and wasn't so naive, but being naive isn't an excuse or for the role I played in this.
"Again, in no way was I trying to gain sympathy and I fully realise i'm not the victim in this. I'm not the one who's really getting hurt here, it's Behati and her children and for that, I'm so so sorry."
Tyla has contacted Levine's representatives for comment.