Mrs Hinch Fans Swear By £1 Garnier Product For Getting Make-up Out Of Carpet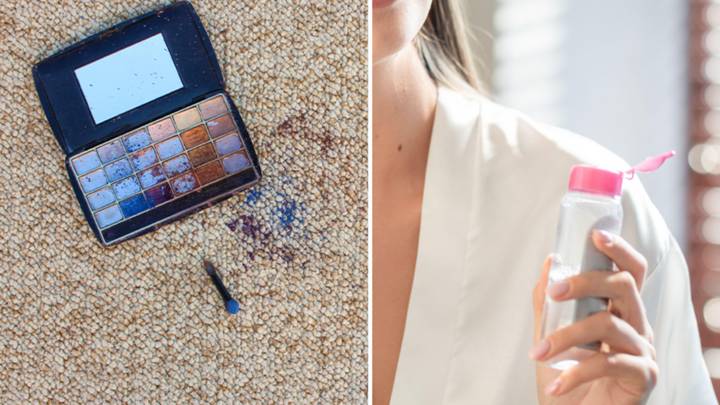 Featured Image Credit: Alamy
Disaster occurred for one woman as she dropped her mascara on her brand new cream carpet.
Anyone who wears makeup can relate to her struggle. Whether it's an eyeshadow palette, mascara, or lipstick, makeup is notoriously difficult to get out of the carper - and that's even without it being cream.
The woman took to Facebook with her plight, posting to a Mrs Hinch group asking: "Help! I've just dropped my mascara wand onto my new carpet. How do I get this off???"
Members of the group were quick to share their tips and tricks for getting rid of makeup stains.
The most common suggestion among users was to use micellar water to remove the stain, as it breaks down the oils from the makeup.
In the comments, one woman simply put: "Micellar water."
Another wrote: "Micellar water or use washing up liquid this will break down the oils and with warm soapy water will come out."
A third person commented: "Micellar water for all makeup mishaps."
While someone else warned: "Whatever you do, DON'T rub! Press lightly at first, then harder as it lifts, eye make up remover on a kitchen towel or Micellar water."
If you've got any fresh makeup stains you need to get rid of, just grab yourself a bottle of micellar water which you can buy for just £1, put some onto a cotton pad and blot at the stain and eventually it will be lifted from the carpet.
Other suggestions from members included shaving foam, Fairy washing up liquid, Body Shop camomile cleansing butter and baby oil.
The Facebook group for Mrs Hinch fans has been full of useful tips for those wanting a clean and tidy house, ones that even Mrs Hinch herself would likely be proud of.
Sophie Hinchliffe, AKA @MrsHinchHome has 3M followers on Instagram and is famed for having a spotlessly clean home. She has shared many cleaning tips and written two books "The Activity Journal" and "Hinch Yourself Happy".
Last year, Mrs Hinch debuted her own home collection at Tesco - one that fans were quick to buy up for their own homes.