Peaky Blinders Fans In Tears Over Surprise 'Appearance' From Aunt Polly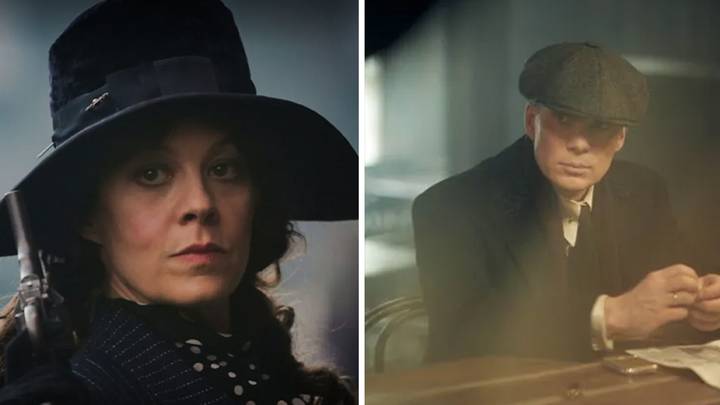 Featured Image Credit: BBC
Peaky Blinders fans were not prepared on Sunday night when the opening moments of series six episode two featured the voice of Helen McCrory's Aunt Polly.
After last week's series six premiere featured a highly emotional funeral for the matriarch of the Shelby clan, viewers weren't expecting to hear from the beloved character again, but her voice came to Tommy (Cillian Murphy) as he returned home to Birmingham.
In the clip, Tommy hears his aunt tell him: "There will be a war in this family, and one of you will die," as he watches Lizzie and his children run outside to welcome him home.
The haunting line was one that Aunt Polly had used to warn Tommy before her death, and it looks as though he's having a hard time forgetting.
After the brief, though unexpected, return of Aunt Pol, fans of the series took to Twitter to discuss the emotional scene.
"Polly might be gone, but she's still a huge part of the storyline - as she should be #PeakyBlinders" tweeted one fan.
A second added: "the way they started it w polly's voice 😭 #peakyblinders."
While a third tweeted: "Whenever Polly narrates or breathes = 🥺 #PeakyBlinders".
"Polly's chilling premonition over a dark screen, really set the scene for tonight's episode. There is a real creeping menace brewing #PeakyBlinders" noted another Peaky fan.
Meanwhile, after Sunday night's episode, fans are convinced that Tommy is being haunted by the ghost of his first wife Grace.
Every time Tommy has a fit, he has visions of himself fighting a man in a muddy mine shaft. After Tommy had another fit, he gets a phone call from Liz.
In the next scene, a foreboding shot of Grace's portrait was captured as Tommy and Liz make their way to see Ruby.
Could Grace have unfinished business with Tommy?
Peaky Blinders continues on Sunday 13th March at 9pm on BBC One.