Keke Palmer Says Black Characters Staying Human In Lightyear 'Shows Pixar Is Listening'
Featured Image Credit: Alamy/Disney/Pixar
Walt Disney Studios and Pixar have made massive strides in bringing diverse characters and stories to the screen as they continue to expand their library of animated classics.
Lightyear is the latest offering, a Toy Story spin-off film about Buzz Lightyear's origin story and his lifelong friendship with his crewmate Alisha Hawthorne and the moment he partners up with her granddaughter Izzy, who is played by Keke Palmer.
The film is an astounding space adventure, which is also the most inclusive film from both studios to date, with a same-sex relationship and three African-American main characters.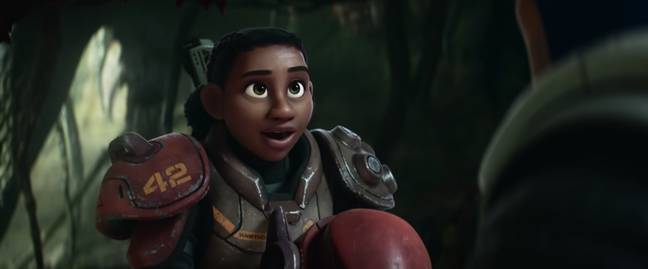 It does not go unnoticed, especially after the release of The Princess and the Frog and Soul, both of which were praised for introducing audiences to Tiana, Disney's first African-American princess and Joe Gardner, Pixar's first African-American focal character in a film. Both films were criticised for mostly portraying Tiana as a frog and Joe as a floating soul in their respective stories.
Palmer recently sat down with Tyla ahead of the film's release to discuss these stories and why it's so important to see Izzy, a relatable, brave and funny, black female character, in an animated film.
"Animation is a place where we explore," she said. "It's very whimsical but I do think it's awesome that we get Izzy as a character who we get to see on screen representing in that way, I think it's just awesome and it also shows that Disney and Pixar are listening and trying to give us what we want."
She adds: "I think in all communities that feel underrepresented, speaking out and saying 'Hey, this is what I want, this is what I need' it continues to push the envelope for the people that create these stories to say 'Ok, let me come back and make sure that I make it even better this time, I want to make sure that I do my part."
Accurate representation was incredibly important for Palmer, a lifelong Toy Story fan who is beyond excited to see youngsters dress up as Izzy and emulating her hairstyle. Both Alisha, who is voiced by Uzo Aduba, and Izzy have luscious and spectacularly detailed natural hairstyles. "For me, hair is a big thing and I really love that they took their time getting them coils right. And not only getting the coils right but getting the differentiation between Alisha and [her] granddaughter Izzy.
"Alisha was giving you natural looks the whole movie! I really appreciated that. Not just with the hair, but with their face - you could tell that they were relatives but they had their own features, they had their own look and I think that's important."
She also had the chance to bring 'a lot' of her personality to Izzy, who - believe or not - is absolutely petrified of space.
"I feel like I got to express the innocent, curious and the aspect of really wanting to do well and [the] ambitious side of myself."
It seems Palmer herself isn't too fond of the idea of being lost in space, too.
"Honey, if I was in outer space I'm going right back down to earth. I'm not dealing with the craziness of space. Like, if I'm up there I need to be in a closed space with somebody who really knows what they're doing.
"If I get up there I must be friends with the aliens because I need someone who's gonna make sure there's no trouble for me. There's just too much out there, I'm with Izzy. It's spooky!"
At only 28 years old, Palmer has already graced our screens on Disney Channel's Jump In, Nickelodeon's True Jackson, V.P. and countless other television series, dramas and comedies through the years. But it was joining Lightyear that left her feeling 'so happy and gagged'.
"Toy Story originally came out when I was like two years old I don't remember actually watching it for the first time, I kinda just remember it always being a part of my life.
"To be a part of it in this new way, it felt very full circle".
Lightyear is in cinemas from 17 June.