Brave young girl praised for stepping forward to bring 'monster' to justice
Featured Image Credit: Bedfordshire Police
Warning: This article contains content that some might find distressing.
Viewers who tuned in to 24 Hours In Police Custody this week have been blown away by the brave young girl who stepped forward to help police take down a 'monster.'
The latest episode of the Channel 4 true crime series was a difficult watch for most, as it covered the rape of a 15-year-old girl by convicted sex offender Kye Dell.
In the documentary, Bedfordshire Police were working on a missing person's case, which quickly escalated into an alleged 'sexual grooming and multiple abuse' case when the survivor told her story.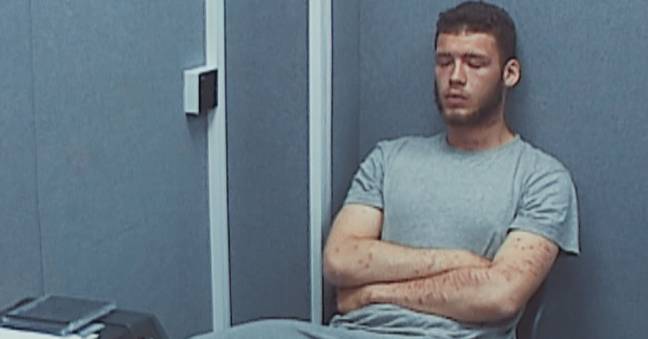 Devastated viewers learned of how Dell, who was 21-years-old at the time of the incident, groomed the underage girl, offering her a place to stay with him after she had a disagreement with her mum.
Police explained that, when he had the teenage girl in his house, he raped her multiple times, threatening to hurt her or himself if she refused his advances.
Eventually, the young girl managed to get out of the house and gave a statement to police, revealing that she had been a victim of sexual abuse.
As a result, Dell was arrested and pled guilty to two counts of rape, two counts of sexual assault, two breaches of his sexual harm prevention order, and one count of possession of an indecent image of a child.
After watching the harrowing episode, distressed viewers took to Twitter to praise the young survivor who was brave enough to come forward and share her story with the police.
One person tweeted: "This girl is SOOOO brave on 24 Hours in Police Custody."
A second commented: "So impressed by that 15 year old on 24 Hours in Police Custody who continued to blow the whistle on that creature Kye."
And a third penned: "I hope this isn't another one where the animal gets off - he needs to go to jail for a long time he's one dangerous manipulative monster."
One woman praised all of the survivors who have opened up on the show, writing: "The way these young ladies have stepped forward on 24 Hours in Police Custody is commendable. It isn't easy coming forward with sexual abuse, and something I myself struggled with."
Viewers will be pleased to know that Dell, from Guildford Street, Luton, was handed an extended sentence of 14 years, nine of which he will spend in prison. He will also be on a sex offenders list for the rest of his life.
After the episode aired, Bedfordshire Police issued a statement about grooming and urged people to stay vigilant and look out for the signs.
"If you watched this evening's episode of 24 Hours in Police Custody, you will have seen one of the themes featured centred around the grooming of young girls," read the statement.
"Any child or young person can become the victim of grooming, no matter what their sex, ethnicity or background.
The signs of grooming aren't always obvious, and perpetrators will often go to great lengths not to be identified.
"They will often try to isolate the young person from their family and friends or ask them to keep the relationship secret, buy them expensive gifts, such as designer clothes, or let them have access to alcohol and drugs."
If you've ever experienced sexual violence or sexual abuse, you can get confidential support from specialists who will listen to you, believe you and understand how hard it is to talk about. Visit gov.uk/sexualabusesupport to see the support on offer.