Mum makes odd discovery in back garden after husband completely vanishes
Featured Image Credit: Facebook/Help Us Find Colby Richards
The family of a missing man are desperately trying to piece together what happened after making an 'atypical' finding.
Colby Richards was last seen in his home in Musgrove Place, Georgia, on the morning of Friday, 26 May by his wife, Callie Richards.
The 31-year-old father is reported by his wife as having woken up at around 5:00 am and left the bedroom.
Colby's cousin, Allison Fox, has since spoken out about an unusual finding Callie made when she first realised her husband was gone.
Allison explained Callie got up out of bed to look for Colby after he didn't return to their bedroom to get dressed for work.
"He wasn't in the house, so she checked the backyard […] and she noticed that the back gate was open, which was atypical," she told Fox News Digital.
Allison noted the father-of-two 'never leaves the house that way' and would 'never leave the gate open' because of his small children and the family's pet dog.
As a result of the 'atypical' finding, Callie immediately called the police, Allison said.
Allison explained that a search team was deployed by Montgomery County Sheriff's Office.
Colby's wallet and phone were located inside the house, so he was unable to be traced electronically.
However, Allison said a 'water bottle of [Colby's]' was discovered 'near the trailhead in the wooded area with trails and stuff behind where they [the Richards family] live'.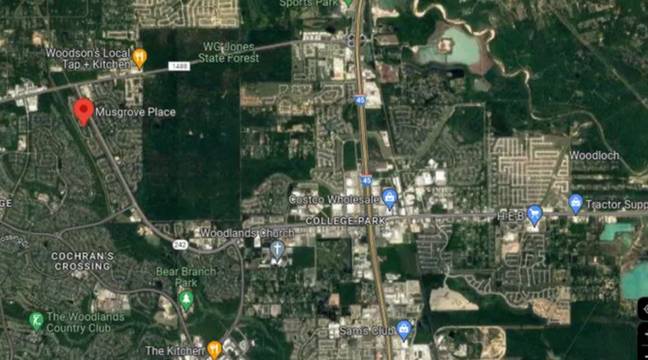 Despite the finding, police have since called off their search for the missing father according to Allison.
Although, Colby's family have since begun a search of their own, enlisting the help of volunteers.
"We've had everything from people on foot, thermal drones, regular visual drones, people on ATVs, people on horseback and people driving around in their cars checking to see if there are security cameras or doorbell cameras that might have footage," Allison explained.
"And we've been trying to get the word out to everybody that if they see him, or they see anything out of the ordinary [...] to call the sheriff's department."
In a post to Facebook, Allison clarified some of the details surrounding the 31-year-old's disappearance.
She said the father-of-two is thought to be wearing tennis shoes - because he has 'one pair [...] and those were the ones missing from the house'.
Allison added that Colby's 'usually in a t-shirt and shorts when [...] home'.
Anyone with any information surrounding Colby Richards' whereabouts is asked to contact Montgomery County Sheriff's Office and Allison has since set up a GoFundMe page to raise money for his family and supplies for search volunteers.
A spokesperson for Montgomery County Sheriff's Office told Tyla: "This is an active investigation, and to protect the integrity of the investigation we will not be sharing specific details about the investigation. Currently we are not searching areas where there is no credible information that would suggest Mr. Richards is in that area, including all areas previously searched by our agency and Montgomery County Search and Rescue.
"However, our detectives are currently in the field and are following up on leads and information as it is received. We are in regular communications with family and friends of Mr. Richards and will continue efforts to find him and keep the family informed.
"The Montgomery County Sheriff's Office shares the family and community concerns regarding Mr. Richards whereabouts and safety and is doing everything in our ability to find Mr. Richards and bring him home."