Mum gives birth to one of UK's biggest home birth babies
Featured Image Credit: SWNS
A mum has opened up about her experience giving birth to one of the UK's biggest home birth babies.
On 28 February 2023, two-and-a-half weeks later than she was due, baby Tabitha was born.
As well as arriving to the world late, Tabitha made sure to make even more of an entrance by being born at a weight which has made her one of the UK's biggest babies.
Tabitha's mum 36-year-old Ruth Harvey has since opened up about her experience giving birth to her third child at home in Dundonald, Ayrshire.
After facing a two-and-a-half week delay, Ruth went through an eight-and-a-half hour labour when giving birth to Tabitha - a team of midwives and her partner Eddie cheering her on from the sidelines.
Despite Tabitha's impressive size - weighing a whopping 12lbs 9oz upon entering the world, Ruth says her experience of the birth was not only 'enjoyable' but she was even 'relaxed'.
The mum explains: "It was relaxed, I'm sure it was because I was at home.
"I was in the pool on my hands and knees, there's a school of thought about how animals give birth in dark, calm environments.
"Eddie put up fairy lights and we hired the birthing pool, we don't have a carpet and we put down tarpaulin and towels. It was like being in a spa with aromatherapy oils and a hot pool."
Since then, Ruth's recovery has been 'quick' and she's even 'doing the school run again'.
As a result of the birth taking place at home, Tabitha has 'only spent an hour in hospital' and all of Ruth and Eddie's children were able to 'listen to Tabitha's heartbeat'.
Ruth resolved giving birth at home not only 'probably saves the NHS money' but was a 'great experience,' the midwives having been 'phenomenal'.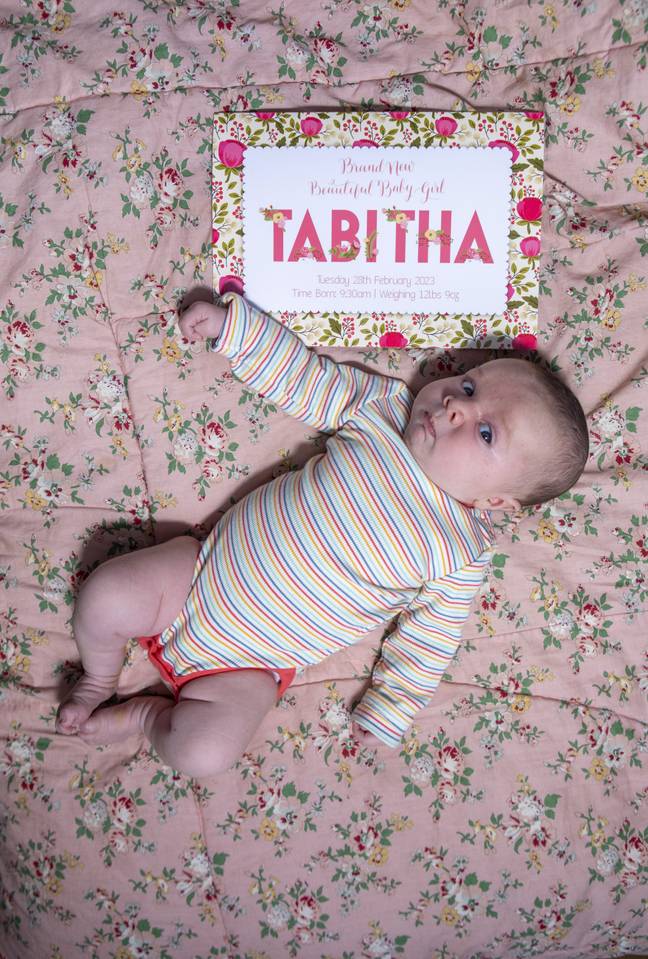 While Tabitha's size may surprise some, it wasn't a huge shock to Ruth, the mum noting she thinks she thinks she 'make[s] big babies anyway'.
She explains: "My other two were 9lbs 9oz and 10lbs 1oz."
Although Ruth did admit Tabitha is a 'really big baby'.
"We know the team of midwives haven't had a baby this big during a home birth. A lot of people have commented but so far nobody has said their baby was bigger," she adds.
However, the current record remains held by Guy Carr, born in 1992, weighing a whopping 15lb 8oz at his time of birth.
George King follows in runner-up at 15lb 7oz, born in 2013.