Pregnant woman finds out she has stage 4 cancer after doctors misdiagnosed her symptoms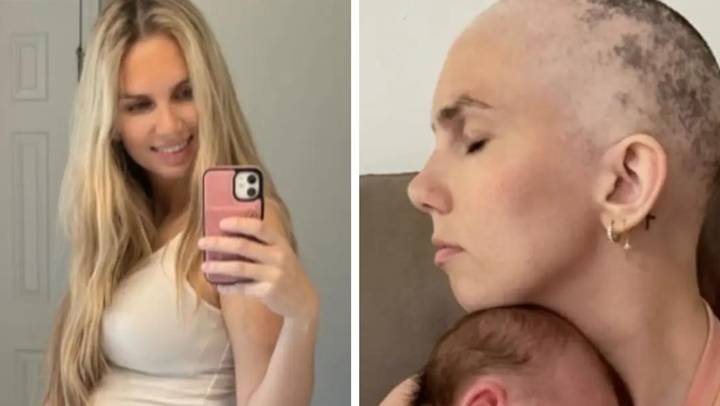 Featured Image Credit: Lindsey Garrison
A pregnant woman has revealed that she was diagnosed with stage four cancer after doctors initially misdiagnosed her symptoms.
Lindsey Gritton, 29, first noticed that something was wrong when she felt a burning pain under her right armpit and close to, but just outside of her breast, in April of this year.
She said she had the pain on and off for a week before she found a worrying marble-sized lump just outside the right side of her breast.
It reminded Lindsey of a clogged milk duct that she'd had during her first pregnancy, but she said that she wasn't able to unclog it herself so sought medical advice.
Her ob-gyn agreed with her initial assessment that it was a clogged milk duct and went on to prescribe antibiotics to treat the resulting mastitis.
As reported by the NHS, this is a common condition in breastfeeding people that sees their breast tissue become swollen and painful - it also typically only affects one breast.
However, despite the doctor confidently saying she'd seen it 'a thousand times', Lindsey wasn't so sure as it felt different from her previous clogged milk duct.
"I just knew what a clogged duct felt like," Lindsey said. "And so in the back of my head, I knew that it wasn't that."
Frightened that the lump was something sinister, Lindsey insisted on getting an ultrasound, despite being told that she was too young for it to be cancer.
She explained that she immediately knew something was seriously wrong when she returned for her results a few days later.
"She kept going over it with her little wand thing, and she kept looking at the screen. They're not allowed to say anything to you, but I could just tell by that look on her face that it just wasn't good," she said.
Lindsey was then told that she most likely had cancer - namely, invasive ductal carcinoma - and it was confirmed by a biopsy that revealed the disease had likely already spread into a stage four case.
However, because she was pregnant, doctors couldn't confirm this because of the risk a PET scan's radioactive sensors would present to her then-unborn daughter.
Because of the dire situation, Lindsey was induced three weeks before her due date so that treatment on her cancer could begin.
She is now four months into chemotherapy and explained that she is having treatment every three weeks - all while dealing with a newborn, who her husband's family are helping to care for.
Thankfully, recent scans have shown that 80 percent of Lindsay's cancer is now gone, and she is hoping to recover completely despite being diagnosed with an advanced form of the illness.
She is sharing her story as she wants other people to have the confidence to speak out if they think there is something seriously wrong with them.
"If I wouldn't have advocated for myself, I don't even think I'd be here today. Because from what they told me with my blood work and everything, my liver was already failing," she said.
You can keep up with Lindsey's journey on TikTok.
If you or someone you know has been affected by cancer, help and support is available from Cancer Support UK