Poundland shoppers have been left stunned after spotting a NSFW item on display in their local store.
One shopper saw the sex toy in what appeared to be their toiletries and personal care section, and took to the Extreme Couponing and Bargains UK group on Facebook to share their surprise.
"Poundland are selling these for £2. Decent price!", the Facebook user wrote on the group after spotting the butt plugs.
The post attracted dozens of comments with one shopper saying: "Can't say that I've ever thought to myself, 'I think I will just pop out to Poundland today and buy a butt plug…'"
"Honestly like, what are parents gonna say to their kids? 'Um they're for cleaning the plug hole,' 'But mum how will it fit down with the metal grid in the way? Just a bit of Flash will do it!'"
Others had no idea what the ominously shaped sex toy was actually used for, with one person admitting: "Thought it was some kind of energy-efficient bulb."
"I thought it was a small tree ornament," another bravely said.
Their sex toy line, named Nooky, includes sex toys for everybody and markets its most expensive product at just £8.
A product description for the Bonkin' Bunny dildo reads: "Hop to it whenever you feel frisky and enjoy some bunny fun with the Nooky Bonkin' Bunny.
"You get double the pleasure with this fun-filled vibrator as the bullet shaft provides internal satisfaction, while the bunny ears tease and stimulate the clitoris bringing you a sensational two-in-one climax."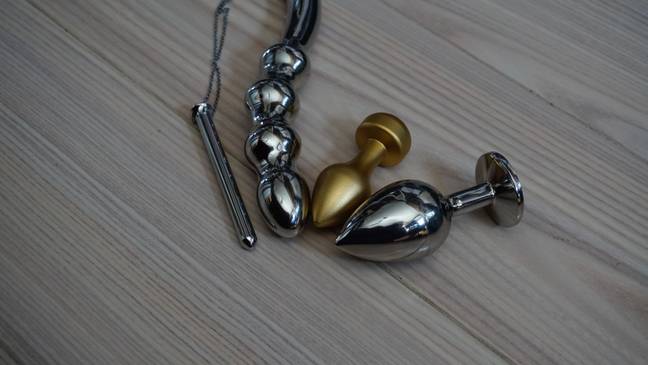 The butt plug which was spotted by shoppers is currently on sale for £2, and is an anal toy which is used for sexual pleasure.
And if, like some Facebook users, you're confused about what pegging is, you can read more on that here.