Kristen Bell admits her five-year-old daughter is still in nappies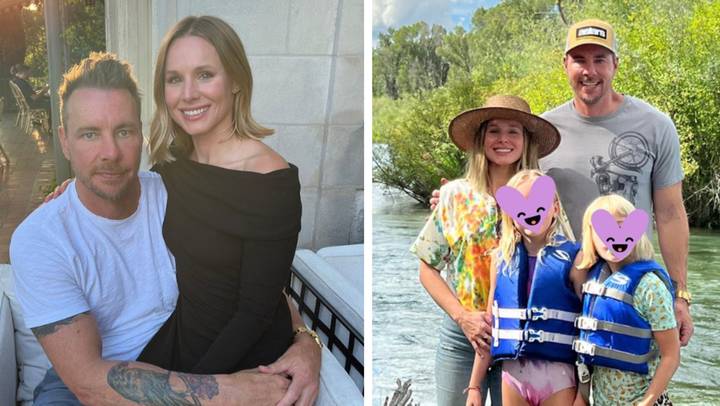 Featured Image Credit: @kristenanniebell/Instagram
Kristen Bell is a big fan of keeping it real, and she made the revelation that her daughter was still wearing nappies at the age of five years old.
While most children are toilet trained as toddlers, Bell once explained that her daughter, Delta, isn't quite there yet on her podcast series, Mansplaining with Kristen Bell.
"Every kid is so different," Bell admitted.
The mum, now 42, went on to reveal that her eldest daughter, Lincoln, got the hang of using the toilet before she was even two years old.
"My oldest daughter at 21 months, we merely suggested that she use the toilet in the other room and [she] never wore another diaper beyond that," she said.
"We were lying in bed giggling about this, my husband and I, like, 'Why does everyone make a big deal out of this potty training? It's so easy. Just tell the kid to use the toilet'."
However, the revelation was met with a mixed response Twitter, with some people arguing that Bell's daughter should have been toilet trained at the age of five.
"NO Kristen Bell it is NOT okay, literally ANY episode of Supernanny will tell you that's way too old for nappies," slammed one Twitter user.
"Fix it quick - basic life skills aren't a choice to learn. You're not an expert on parenting just because you are one."
A second added: "Kristen Bell's 5 year old daughter still wears nappies... wtf."
Others, meanwhile, were quick to agree with Bell's point that all children progress at different levels.
"My brother was still in diapers at 5, and that was all day!" revealed another Twitter year. "My mum used to say it was because 'he keeps waving his little pecker around and pi**ing everywhere!' omg the laughs we had!
"He's now 55, married, two children, 3 grandchildren, so many nieces, nephews, and no nappies! [sic]"
The actress went on to clarify on Twitter that Delta does not wear nappies all of the time - simply for extra support at night.
She admitted that 'her tiny bladder isn't up for the 10 hr challenge yet'.
But the mum, who shares her two children with Dax Shepard, was confident that it was only a matter of time before Delta was able to live her life without having to rely on nappies.
"Sometimes it takes kids until they're even older than five!" she said. "But I've never met a high-schooler who pees their pants all day. It's going to stop at some point."