Woman left gobsmacked over 'best dishwasher hack she's ever seen'
Featured Image Credit: Rae & Jake/Facebook
Stacking the dishwasher can be a pretty frustrating household chore, especially if yours is on the small side.
But one woman was left in shock after she discovered the ultimate dishwasher hack - and it's pretty mindblowing. We can't believe we never realised this existed:
Posted on Facebook by Rae & Jake, Rae can be seen trying to slot a rather tall glass into the top shelf of the dishwasher. As many of us will have experienced before, the glass is too tall to fit.
"It won't fit," Rae tells Jake as she tries to slot the tall glass onto the shelf.
"Pull it out and push on both sides these clamps here."
Jake can be seen pointing to two clamps on either side of the shelf. When Rae pressed them inwards, the shelf instantly dropped and the glass was able to fit in perfectly.
"You were today years old when I just taught you that," he said.
Meanwhile Rae wrote: "Best kitchen hack I've ever seen! Also, concerned that I'm just learning about it."
Others were blown away by the hack too, with hundreds commenting on the video.
One person wrote: "You've just shown me something that's printed in the instruction manual. What have I been missing out on for my entire life by not reading?"
While another said: "Do you know how excited I am to jam every piece of Tupperware on that top shelf I can possibly fit?! Life changing."
And a third added: "I didn't know that at all. I was stunned."
Meanwhile a fourth commented: "Mine has this and I had no idea until right now! I can wash my 48 oz water bottles!"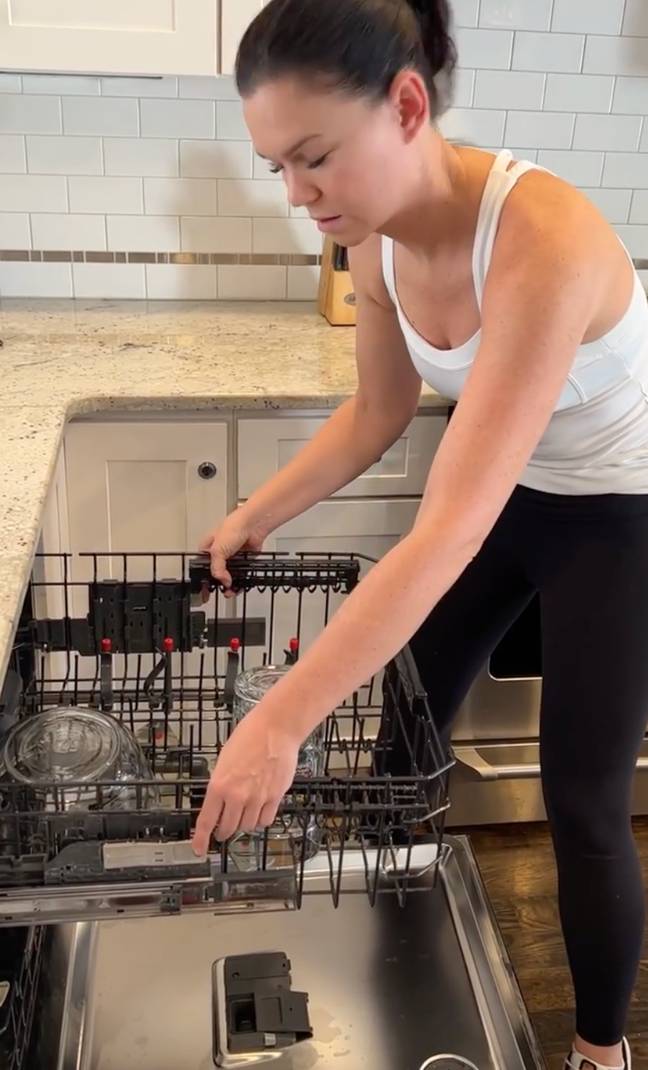 Although the trick is handy for tall, top shelf items, some Facebook users pointed out that by lowering the shelf, it can inhibit some items on the bottom, such as large dinner plates.
"Mine does that but you have to make sure it doesn't hit the stuff on the bottom when you lower it," one said.
While another added: "But then the blade hits the plates on the bottom and the dishes on top don't get clean bc it can't circle around."
Brb, just off to check if our own dishwashers have this feature...