Woman stormed out of shop over employee's 'rude' response after she asked for bigger size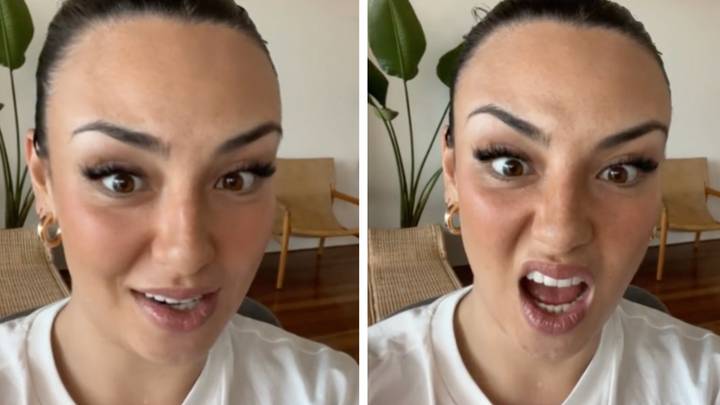 Featured Image Credit: TikTok/@yassiemarie
Every shopper's worst nightmare is when their shopping experience is a disaster, which is why this TikToker is putting a well-known brand on blast after an employee's 'shockingly rude' comments about her size.
Finding the right size in any store has its woes, as often sizing differs depending on each brand.
But what happens when your average size is considered 'plus size'?
Between sizes 10 and 12, Yassie is considered below the Australian national average, which is between sizes 14 and 16, but that didn't mean that this boutique agreed.
When entering the fashion store, she initially wanted to try on size 12 high-waisted trousers and realised she needed a bigger pair as they didn't fit.
That was when the shameless remark was made by an employee, according to the social media influencer.
She took to TikTok to speak about her experience: "I came out of the change room and there were two girls standing at the counter ... one went to walk past me and I said, 'Hi sorry, do you have this in a bigger size? It doesn't fit.'"
After the employee took a look at the trousers and tag, she responded that they didn't have the next size up.
So, Yassie asked if another location would have the size she needed, which is when the shop assistant turned around and stated that Kookai do not 'stock plus-size items.'
The comment regarding her weight was something that struck a chord, as the new mum who had been struggling with changes to her body after childbirth.
On the verge of tears, Yassie walked out of the store 'as fast as humanly possible'.
In an interview with 7Life, she said: "I don't shop at Kookai very often, but over the years, their customer service has been consistently subpar. However, this time, it was shockingly rude, and I felt blatantly ignored."
"The comment made me feel awful. I felt like I was being treated as less than human just because I'm not a supermodel."
"So, this was one of the few times in over a year that I felt good enough to try on new clothes and actually enjoy it."
"I was ready to spend money, as I genuinely love Kookai's designs and style. Instead, that interaction left me feeling terrible, and I had to hold back tears."
Thankfully, she was able to find a pair of denim jeans in a size 10, which fit her in another shop, but wants to see more diversity in the sizing range from fashion brands.
"In an ideal world, all customer service would be exceptional all the time, and clothing stores would carry a full range of sizes, including petite and plus sizes," she says.
Though she understands that 'everyone has their off days', Yassie maintains that the experience was less than satisfactory and that their definition of plus-size was 'unreasonable'.
The brand did reach out to her about her customer experience, but she has decided to take no further action and just wants the store to 'do better'.
Tyla has reached out to Kookai Australia for comment.